Here at Skylight Blinds Direct, we've noticed an increase in interest in our roof lantern blind. In 2020, the interior design platform Houzz saw an increase of 52% when it came to requests for home extensions. In a year where we've spent more time together than ever, it seems that the need to find more space in our homes will continue to rise. For many homeowners, a single-floor extension is a perfect solution. Designed and created in-house, these custom-crafted blinds are made specifically to help you manage light and privacy in your new spaces.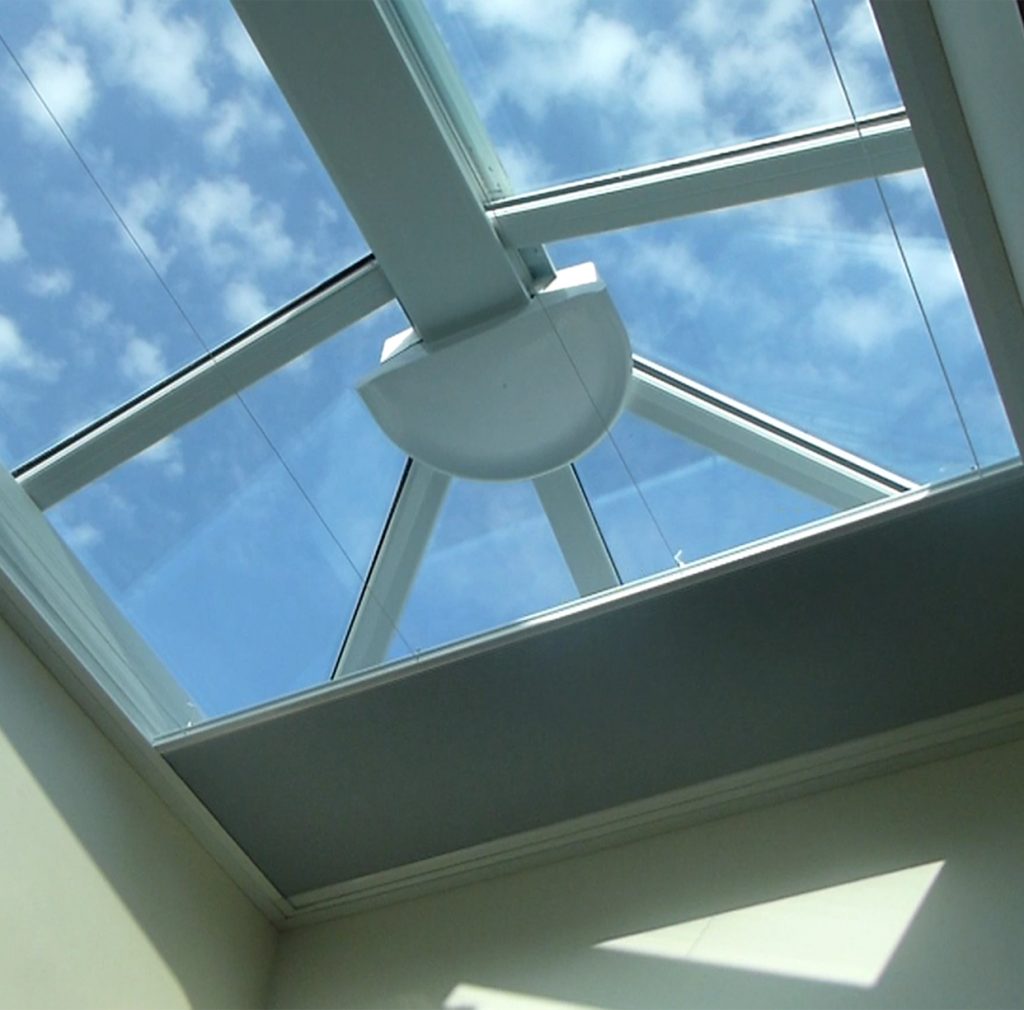 In today's blog, we'll take a look at 5 reasons why you should consider a roof lantern blind – especially if you're creating a new extension or remodeling an orangery, conservatory, or sunroom.  
What is a roof lantern blind? 
In a bid to draw in as much light as possible, many architects and builders opt for sloped roofs when it comes to property extensions. This combats the issue of shading from the existing building and provides more surface space for natural light to filter through. Peaked windows or those built in a pyramid style are the most popular designs. As well as bi-fold doors or large windows overlooking the garden, these glass structures sit on your new roof and make a space feel bigger. 
While allowing as much natural light in as possible is great, it's important that you are able to control it too. Roof lantern blinds are designed for this. They sit horizontally, along the outer frame of your peaked window. Made from a number of different materials, these blinds are designed to close over your window, blocking or controlling the amount of light. With technology advancing every day, the roof lantern blinds available on the market – including our DIY Honeycomb LanternLITE™ and LanternLITE™ Zip Roller Blind – blend in with modern interiors effortlessly. 
5 Reasons You Need A Roof Lantern Blind
1. Light Control
All window blinds are designed with one main focus – to help control light. Even in the smallest of spaces, there are situations where light can become a burden. Excessive, direct UV exposure causes the dye on soft furnishings to fade. Equally, there are times where a more subdued environment is preferred – for a romantic dinner or family cinema night, for example. Roof lantern blinds are designed to do this same job but with your unusually peaked window. 
2. Reduces Glare
Especially now, our homes are becoming even more multi-purpose than before. Living rooms are offices. Kitchens have become classrooms. And the chance of us needing to whip the laptop or computer out in new spaces has become more prevalent. One of the biggest ailments when it comes to uncovered windows is glare. Roof lantern blinds help to combat that, providing you with a solution for those times when you need to get your head down to focus. 
3. Controls room temperature
Typically, we lose around 10% of our household heat through our windows. Modern extensions tend to be built with as much glass as possible – both from an aesthetical and light standpoint. This means that the chance of losing heat through these new spaces can be significant. Roof lantern blinds combat this. Our LanternLITE™ Zip Roller Blind, for example, is available in blackout thermal and anti-glare thermal fabric. With a design that locks the fabric into side channels across its entire length, it is able to fully block in and out the heat. This means you can more effectively control the temperature in this room. And actively reduce heating bills at the same time. 
4. Embraces smart technology
Convenience is the key when it comes to managing busy family households. Smart technology has firmly found its place within our homes.  ⅕ homes own a smart speaker (Alexa, Google Dot, Cortana, etc). Our roof lantern blinds are designed to integrate with this, providing a hands-free solution with a modern edge. Both of our options are fully compatible with Amazon Alexa Home and Google Home. This allows you to open and close them with the sound of your voice. 
5. Brings in added style
Roof lantern blinds aren't just practical – they're stylish too. Our DIY Honeycomb LanternLITE™ has a unique combed design that brings style and detail into your home. With a variety of colours available, you can choose the one that accentuates your room decor.
Here at Skylight Blinds Direct, we work hard to provide a range of window covering options for those harder-to-reach windows in your home. Our roof lantern blinds are crafted to suit a specific need. A high-quality Somfy® motor, sound insulation, and the option of different fabrics to suit your needs. All the information about our LanternLITE™ blinds can be found on our website today. If you cannot find what you're looking for, get in contact with our team who will be happy to help.