As Autumn begins to roll in, you may be looking at the different ways in which you can improve your home. Colder days, more rain and less light all force us to readdress our indoor spaces and establish whether they're likely to work as effectively during these colder months. While light may seem like less of a pressing issue now, it's still a factor you'll need to consider when it comes to usability. And, with more of us spending time indoors and using indoor lighting, privacy can also become a concern. This blog will look at whether it's time to update your roof blind for Autumn.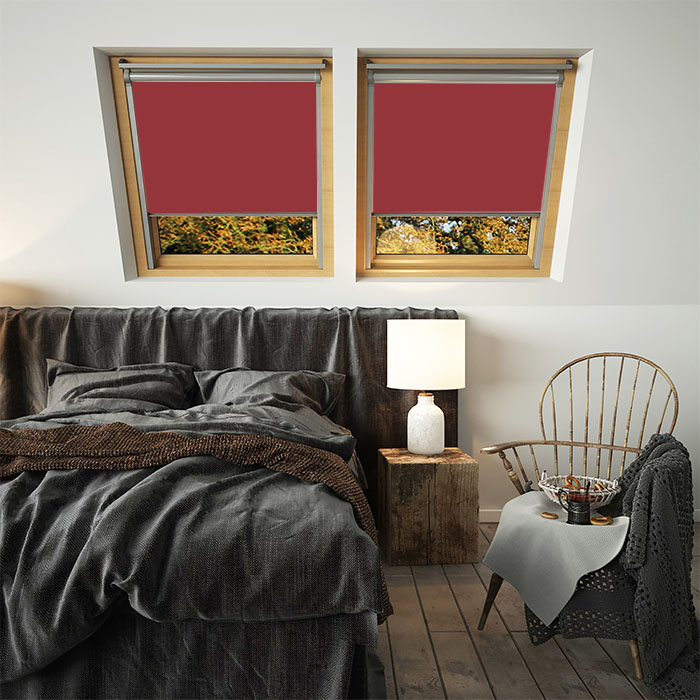 How do skylight blinds help during Autumn/Winter? 
The main role of roof window blinds is to control light and privacy. They are there to offer a barrier between your home and the outside world. During Summer, it comes as no surprise that these household accessories are vital. Extreme sunlight and heat can cause rooms in the home to become unusable. Using window blinds effectively can help to minimise this, giving you control over the natural light you let in and how much exposure your day-to-day activities get. 
While it's true that we get less sun during the Summer, it's important to remember that it's still there. And for many of us, lower Autumn/Winter sun can cause more issues than its warmer counterpart. These colder months call for cosy days in, snuggled up on the sofa or working from your office-bed. The low autumnal sun changes the angle that light passes in through your windows, increasing the chance of glare where before there was none. If you're someone who works on a screen for a large percentage of the day, this can have a significant impact on productivity. The right skylight window blind will allow you to minimise this while still taking advantage of as much natural light as possible. 
Equally, privacy can be a big issue with a roof blind for Autumn/Winter. We tend to draw our curtains earlier and use indoor, artificial lighting to compensate for a lack of the natural alternative. Sheer window blinds or those designed to allow muted light in become near-on transparent in these conditions. Passers-by will have a much clearer view into your home, particularly when it is very dark outside. So, taking the time to consider the window blinds you're using at the moment will help you improve the usability of your home now. 
What skylight blinds are ideal for Autumn/Winter/
With their unique positioning, you'll need to take note of the degree of light you get from roof windows when the weather is less than ideal. As we mentioned above, glare is a big issue for home workers during the entire year. However, having the right tools now will minimise this as we begin to pass more time in our homes. 
Translucent skylight blinds
Translucent blinds for skylight windows are an ideal option here. If your roof window isn't overlooked by any other room or house in the area, these window blinds provide a partial barrier which still allows light in. The material prevents the harshest sun rays from distorting your computer screen or distracting family members throughout the day. They come in the widest variety of colours too, from Bright White through to vibrant Orange or Malbek so you definitely don't need to compromise on style. And, they are available to suit all brands of skylight windows, including those manufactured by VELUX®, Keylite® and Fakro®. 
Thermal roof window blinds
Another key factor to consider during these colder months is, of course, heat. Up to 40% of household heat is lost through unprotected windows. The right blinds will significantly reduce this but only thermal or solar reflective blinds will do these at exceptional levels. If you find that your conservatory or extension becomes uncomfortably cold during Autumn/Winter, it's time to focus on a window blind made from this specialist fabric. 
Options like the LanternLITE™ Roof Lantern Blind are guaranteed to keep you cool in the Summer and warm in the Winter. The specialist material provides an impenetrable barrier between the warm air in your home and the cold glass. This prevents it from leaving while also creating an insulated pocket that supports this. The other key benefit here is the fact that the blackout thermal or antiglare thermal fabric is locked within side channels. While this minimises sagging, it also works to prevent draughts which can minimise performance. 
The brilliant thing about roof window blinds and skylight blinds is that, while their features may seem tailored to specific months, they are actually very versatile accessories. The thermal properties of the blinds we've mentioned above also prevent excessive heat from building up inside during really hot months. Translucent skylight blinds are also highly functional when it comes to blocking out strong Summer light while still letting enough in to keep the room comfortable. 
Whether or not you choose to replace or update your roof blind for Autumn is entirely up to you. But our number 1 tip is to look at how well your existing solution is functioning VS the issues you seem to face at the same time every year. If there is a recurring theme, it may be time to consider something new. If you would like any information about the skylight blind ranges we've mentioned above or would like to discuss your individual project, please get in contact with our team here today at Skylight Blinds Direct.