Unlike other window coverings on the market, skylight blinds are tailor-made for a very specific type of window. They are designed to be used in loft conversions, conservatories and extensions where a roof window has been fitted. To ensure the perfect fit, these types of window blinds are manufactured specifically for your individual window. This allows them to sit within a channel, blocking out as much light as possible and remaining taut throughout their use. Here at Skylight Blinds Direct, we manufactured skylight blinds to fit more manufacturer's windows – including leading names such as VELUX® and Keylite®.
Occasionally, we have a customer that is unable to identify the type of roof window that they have. This could be due to a number of reasons, including having just moved into a home or poor communication with a builder. In this instance, we offer our bespoke skylight blind services – allowing us to manufacture blinds specifically for you. This blog will give you all the information you need, should you fall into this category.  
What are bespoke skylight blinds?
All of our skylight blinds are made to fit your windows perfectly. But our bespoke skylight blinds are designed specifically to fit your window like a glove. We take your measurements and use them to create channels, blinds and all the components exactly. Doing this allows you to install them in no time and without the need for additional labour. It also ensures you have full window coverage needed for both light control and privacy. 
We are able to manufacture them in a whole host of materials. Blackout to help improve light control and encourage deep, restorative sleep. Waterproof fabric to minimise the risk of moisture-related damage or mould growth. Sheer fabric which mutes out harsh light and minimises the impact of glare on computer and television screens. No matter your requirements, we can incorporate them. 
Why might I need to have my blinds made bespoke?
The most common reason for bespoke skylight blinds is because of an unknown window manufacturer. When we created our range, we took the dimensions from some of the UK's leading manufacturers and produced a line of skylight blinds to fit these. Generally, all you need to do is send up the identifying window code and we can produce the perfect fitting blinds. 
However, older blinds or those made by companies outside of our existing selection may not have this information readily available. Equally, we may not have the measurements for your window blinds on our system. In this instance, our bespoke skylight blinds service comes into play. All we ask is that you provide a set of measurements (as specified below) and our team can craft you a skylight blind that fits like a glove. 
What options do I have? 
Ordering bespoke gives you the same number of personalisation options as it does if you order from our online range. These include:
Material
Blackout Thermal

– Ideal for bedrooms, this multilayer fabric has a light-blocking layer in the centre. The thermal fabric also minimises the loss of heat during the day, allowing you to maintain a comfortable temperature and lessen the pressure on the home heating system. 

Translucent –

Allowing a muted percentage of light through, translucent skylight blinds are perfect if you're turning the space into an office or TV room. This net-style material prevents glare while ensuring the room can still be used fully during the day. 

100% waterproof –

Excessive moisture causes damage such as mould. This is particularly prevalent in bathrooms and kitchens. 100% waterproof fabric offers a water-resistant layer on top of skylight blinds to prevent this from happening. 
Colours
Our bespoke skylight blinds can be manufactured in a host of colours, including:
White

Naturals

Black

Blue

Brown

Green

Turquoise

Grey

Silver

Pink

Purple

Lilac

Red

Yellow

Orange
Features
To add a personal touch, you can also choose from the following features:
Silver frame –

The channels and frame around the skylight blind will be finished in a silver-tone.
White frame –

The channels and frame around the skylight blind will be finished in a white-tone

Motorised –

These skylight blinds don't require an

opening pole

and instead, feature an internal motor that can be controlled by remote control. You'll be able to raise or lower the blind to suit your needs with just a few clicks. 
All of our skylight blinds also have:
An easy 4-screw installation system

Brush seals to reduce heat loss and block out light

Clips to secure the blind fabric to runners

Completely enclosed fabric to prevent fading

Cord-free 'Safe By Design', as standard
How do I order bespoke skylight blinds?
If you've decided that a bespoke skylight blind is the best option for you, we will need specific measurements. Follow the guide below to obtain these:
A – Internal Frame Width (cm)
B – Visible Glass Width (cm)
C – Internal Frame Drop (cm)
D – Visible Glass Drop (cm)
E – Depth of Frame / Side (cm)
F – Depth of Frame / Top (cm)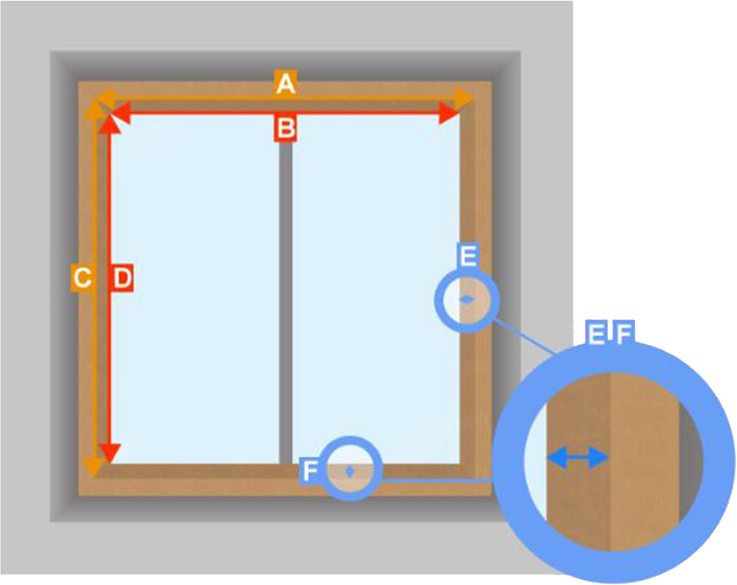 Once you have taken the measurements above, please email them to us at sales@skylight-blinds-direct.co.uk, stating the sizes for A, B, C, D, E and F. 
We are passionate about ensuring every roof window owner can find the perfect skylight blind to suit their needs. If you would like a quotation or to discuss your specific requirements with a member of our team, please get in contact via 0800 008 6293.