In mid-2019, the government changed the Permitted Development rights to make extending your home easier. These grants allow homeowners to undertake certain works on their homes without the need to apply for planning permission. For many, it now means that commissioning a single or double-storey extension to their home has become more affordable. Pair this with the fact that we have an ageing population with more multi-generational homes and the need for space is ever-increasing, we expect to see the number of extension projects continue to rise in line with this.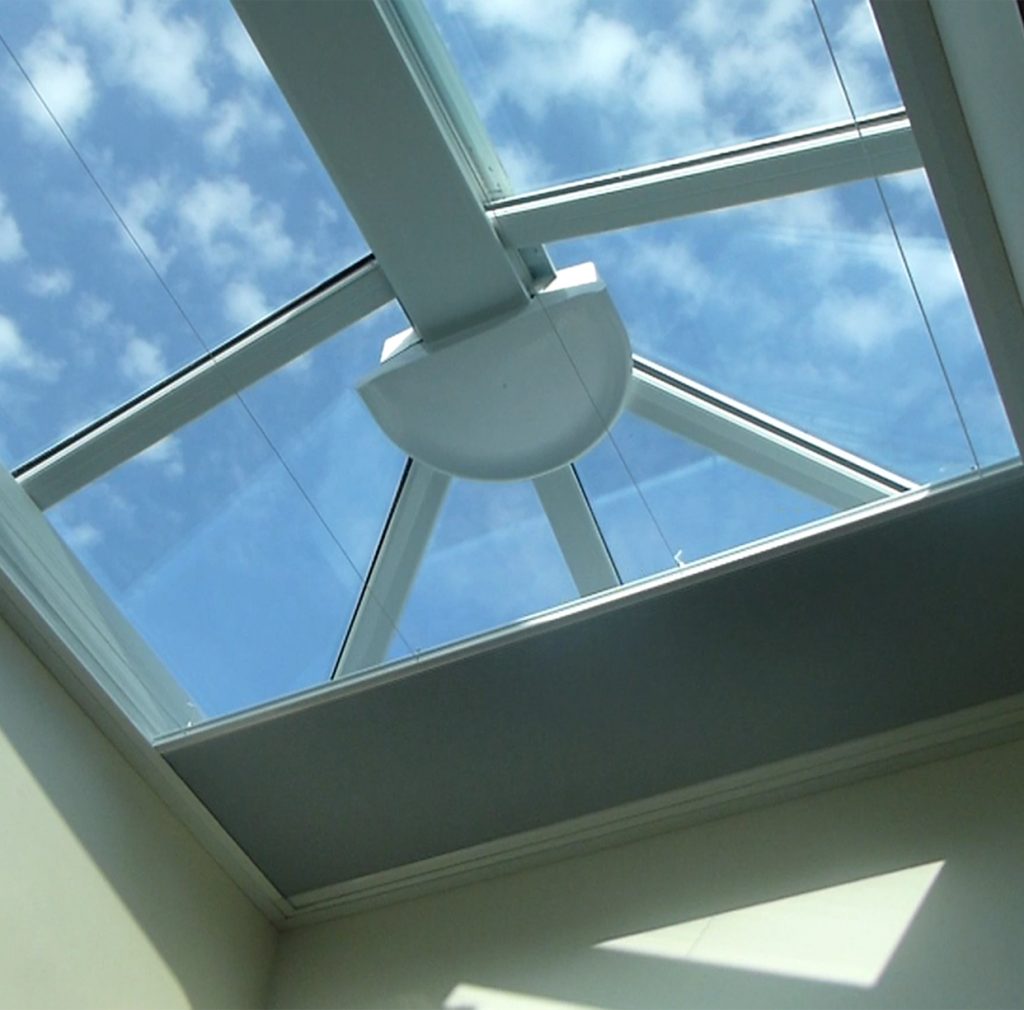 With extensions comes the need for new light in new spaces. And, in turn, the appearance of more and more flat roof windows, roof lanterns and skylight windows. For those considering a project of this scale, there are so many boxes to tick before a room is complete. One of these is which blind is right for your new windows? It may seem like a finishing touch but your windows will help to control temperature, privacy and reduce fading on soft furnishings. In today's guide, we'll walk you through the different options available for the most popular types of extension and roof window. 
Flat Roof Windows
An increasingly popular choice, flat roof windows sit within new roofs and allow light to flood in. As technology has continued to improve, they are becoming more commonplace. While the name states 'flat', there is always a slight dome or slope created with these roofs to reduce the build-up of rainfall and allow it to drain off. According to some, you can get as much as 3X's as much light into a new space with a flat roof then you can with a traditional domed or lantern-shaped roof. 
The abundance of light is great for kitchens, darker hallways or new spaces. But, as we've mentioned many times before, it presents its own challenges. 
Increase heat loss through the glass

Increase the risk of fabric fading

Cause glare (however, this is more unlikely with flat roofs than sloped ones) 
Solving common flat roof window issues
Heat loss
Flat windows offer the same thermal performance as normal windows. Many modern options available on the market come triple-glazed to help prevent heat loss. There are also a number of glass films and finishes that can be applied to reduce this too. However, one of the most effective ways to combat heat loss is through the use of a specifically designed window blind.
Fabric fading
When colour fades from fabrics that have been exposed to direct sunlight, it is called photodegradation. The UV rays that pass into our home break down the chemical bonds found in fabric dyes and cause them to fade. Uncovered windows are one of the biggest culprits for this within the home. And, with flat roofs allowing 3X as much light to pass through, this is particularly prevalent. Again, the right window blind will solve this. 
Designed to fit a flat roof window specifically, this custom-made blind offers a solution to all common flat window problems. It sits around the edge of your reveal and comes in both blackout and anti-glare fabrics. With a range of colours, opacities and hardware options to suit, they blend seamlessly with your ceiling. Being entirely child-safe and chain-free, these blinds are ideal for busy family homes. An internal spring-operated mechanism makes it easy to close and open as needed. And, we provide full installation instructions to reduce the need for additional labour. 
Roof lantern windows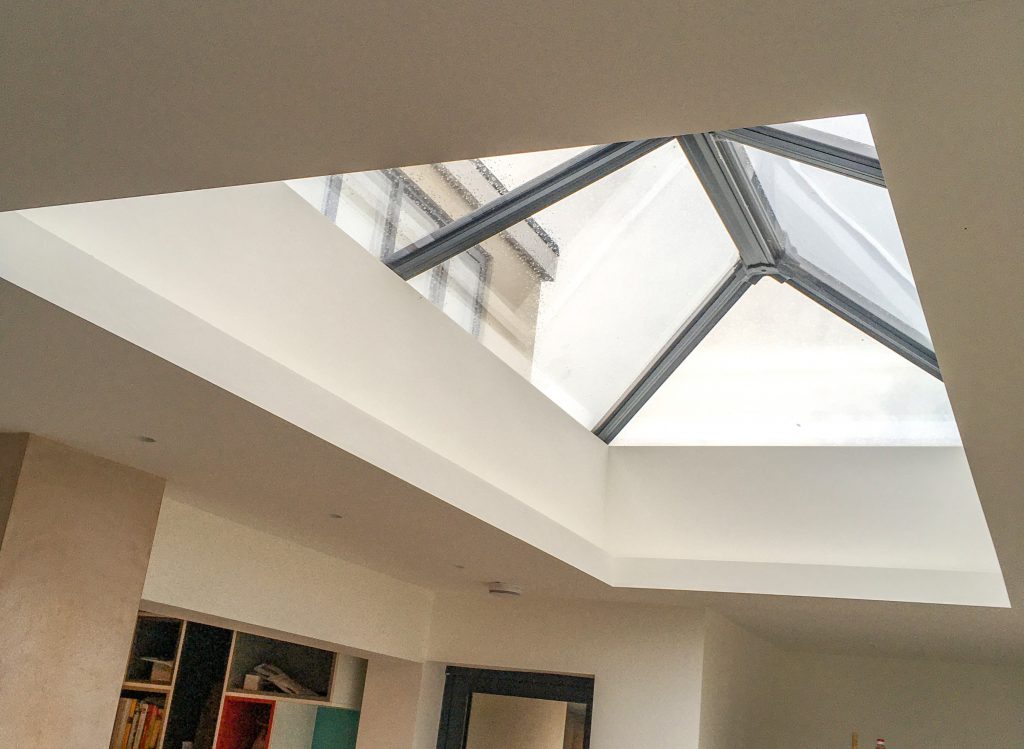 Another popular choice for extensions is a roof lantern. These fully-glazed architectural structures are specifically designed to let in as much light as possible. They have a dommed appearance that pikes up from your internal reveal and includes a number of glass panels within a framed structure. Visually, you may connect these with conservatories or all-glass orangeries but they are becoming more commonplace in extensions too. Modern designs are sturdy, fully waterproof and available in a number of different configurations – including the staple elongated pyramid shape. 
Roof lantern windows let in a lot of light and heat – which can be used to warm a room. However, they pose many of the same issues as flat roof windows – no privacy, no light control, no temperature control and no protection from fading. Once again, the right window blind can solve these issues instantly, of which we have two options – The LanternLITE™ Honeycomb Overhead Blind and the LanternLITE™ Zip Roller Blind. 
Hailed as the most versatile orangery roof blind on the market, our DIY Honeycomb light is both beautiful and practical. With full installation instructions provided as standard, it can be easily fitted without the need for additional labour. We offer this blind with manual, electric or solar-powered battery operation options, giving you the freedom to customise your design exactly. 
The unique honeycomb fabric traps air between its cells, allowing it to insulate from within. This reduces heat from being lost during colder days and prevents too much heat from passing in during hot periods. It comes in both blackout and light filtering options with a range of colour choices to suit your interior style too. And, with soundproofing properties too, it reduces the commonplace noise caused by rainfall or other gentle impacts to your roof lantern. 
Alternatively, the LanternLITE™ Zip Roller Blind is a cord and wire-free option for your roof lantern. It is near-on identical to the first, with the exception of a tensioned zip that stays fully enclosed within the cassette and side channels. This eliminates the risk of saggy fabric, keeping light control and privacy at optimal performance at all times. With the option of either Blackout Thermal or Antiglare Thermal Fabric, you can customise the style to suit your needs. And, it is entirely powered by a Somfy® RF Motor. This allows you to connect your new blind with an Amazon Alexa Home or Google Gome and control it using smart technology. 
Skylight Windows
Last, but certainly not least, is the skylight window. Ideally suited to sloped roofs and extensions, including loft extensions, these windows are a highly popular option. They are placed in areas to optimise on natural light and help to transform a dull space into one that is bright and usable. Again, the same issues stand, with lack of privacy being more prominent due to their positioning. The right skylight windows can accentuate the beauty of a room and provide a host of practical benefits too. 
As UK experts, we have one of the widest selection of skylight window blinds available in our online store. From blackout skylight blinds and those powered by an internal motor, we've worked hard to bring solutions to every issue. Our waterproof skylight roller blinds have a protective covering that allows them to be used in moisture-rich environments, including bathrooms and kitchens. Our translucent blinds for skylight windows are designed to minimise excessive light, reducing the risk of glare but still allowing a room to be used fully. And, our made-to-measure service ensures a perfect fit for your blind, no matter the window. 
Understanding your new window and the options out there in terms of window blinds allows you to get the very most out of your new space. Speak to a member of our team today if you have any further questions or queries about dressing the windows of your new extension.