As a nation, we are obsessed with the outdoors. And who can blame us? The English countryside is one of the most beautiful in the world. From our Areas of Outstanding Natural Beauty (AONB) through to our conservation areas , it seems only fair that we strive to bring this beauty into our home. Many opt for artwork or patterned wallpaper to achieve this. However one of the most popular ways of both increasing house value and bringing the outdoors in are conservatories.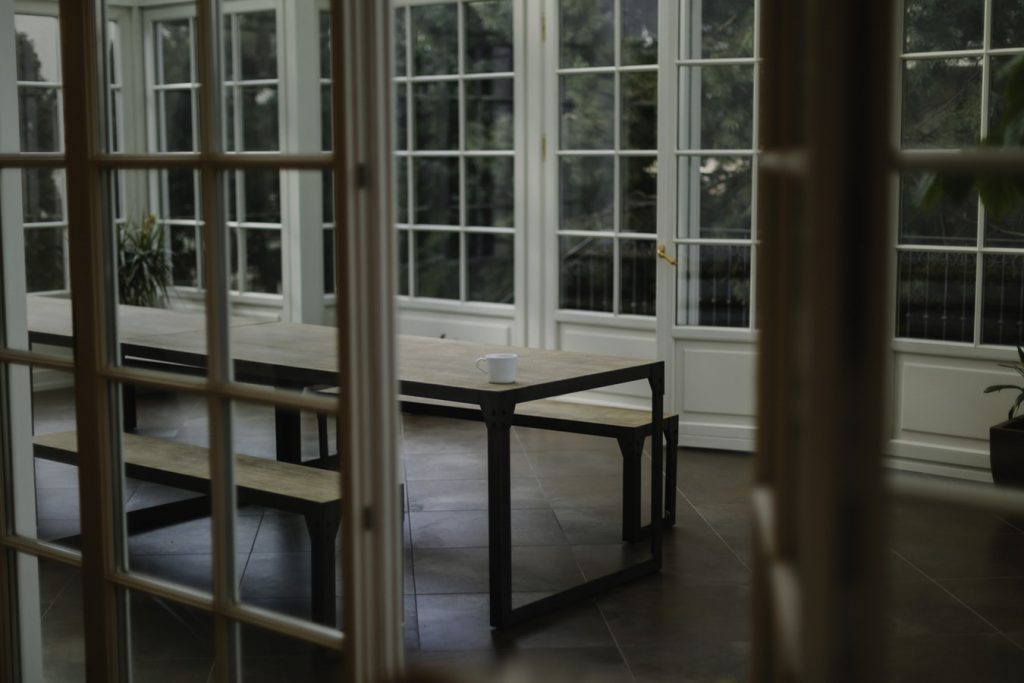 These glass constructions have the potential to increase your houses value by approximately 5%. That could mean an additional £15,000 or more to the overall value of your home. When well-built, they provide additional space for your family and extend the downstairs living area. Households where entertaining is a must benefit from the additional floor space as well as the opportunity to appreciate the outdoors during all weather conditions.
Orangeries and Conservatories
In recent years, more people opt for Orangeries instead of Conservatories. These Italian Renaissance buildings were used as free-standing housing for orange and lemon trees during the winter. Having an orangery was a sign of wealth and power, with a focus on modern architectural design and impressive interior layouts.
The key difference between orangeries and conservatories lies in the amount of glass used in their construction. Typically, a conservatory will have over 75% of its structured glazed with high-quality and durable glass in contrast to orangeries which will have much less. However, both types of building exist to allow light to freely flow around the living area – providing a host of options for home owners and interior designers alike.
With this increasingly popular renovation style appearing across the country, there is a need for suitable window dressings to suit all glass enclosures and their purposes. The type of window blind you are able to install will depend largely on the roof structure and location of the windows in your external building. Below, we discuss some popular options and the different reasons why these may be the most suitable for you.
Lantern Roof Blinds
The traditional roof style when it comes to conservatories and orangeries is a peaked silhouette. Whether it has a high or low angle, these roofs are notoriously hard to dress with traditional window blinds. Although classic roof blinds can be used, there is the issue of controlling and adjusting them when they ordinarily sit out of hands reach. The practical option here is a remote controlled or automated blind that is controlled with the click of a button.
For home owners seeking something clean and contemporary, we have a selection of options here at Skylight Blinds Direct. For those willing to invest, the Eliminate® Skylight Blind is a high performance, all-coverage option that glides across the base of your peaked roof. In doing so, it flattens out the visual look of your room while providing ample protection against harsh light rays and blocking in heat. The high tensile fabric minimises any risk of sagging and can be colour matched to your room design for a seamless finish.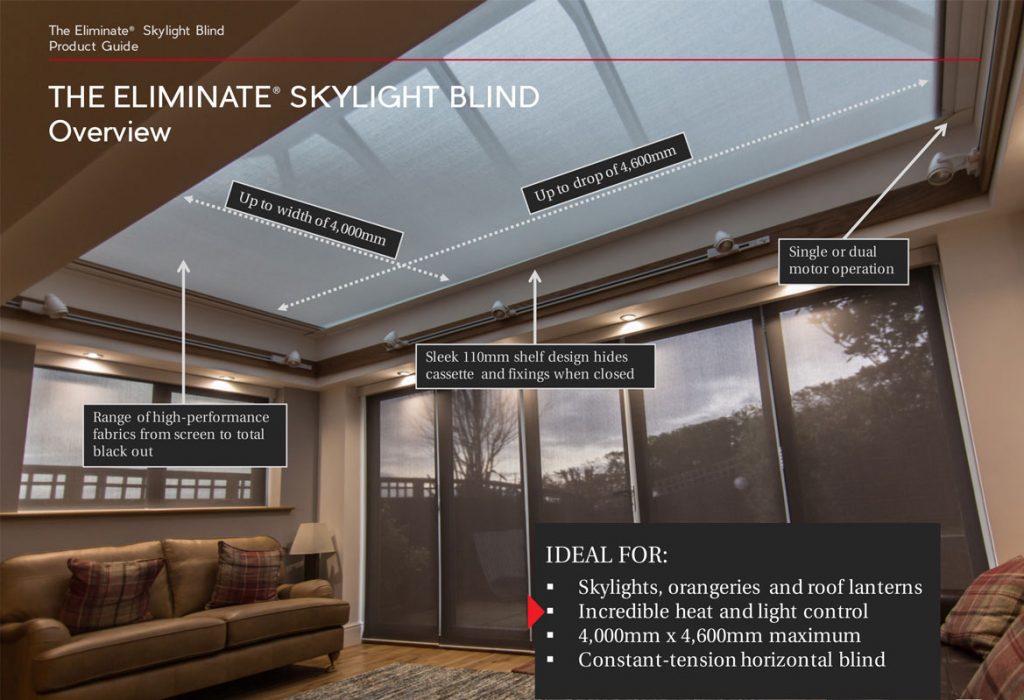 If the budget you have allocated is most conservative, the LanternLITE™ is a beautiful alternative. Known as the 'First DIY Roof Lantern of its Kind', it shares a similar aesthetic as the Eliminate® but has an easy-to-install design for convenience. Skylight Blinds Direct have commissioned this blind type to suit the requirements of our customers who found that traditional roof lanterns weren't sufficient enough to maintain a comfortable temperature throughout the year.
The LanternLITE™ can be ordered in either blackout thermal or translucent screen fabric – both of which effectively allow you to control and stabilise both the temperature and lighting. The blind is tensiled by a 'Constant Tension Spring' unit. It locks into the side channels along the entire length to prevent sagging and maintain a sleek look. These roller blinds are ideal for orangeries, atriums or any flat roof window. They come in sizes up to 3m x 3.6m.
Link up your Amazon Alexa Home or Google Home and operate the Somfy® RF Motors with the sound of your voice. Creating a relaxing environment from the comfort of your sofa or dining table was our goal and these premium-quality blinds definitely achieve that.  And, for the main benefit to every single customer, these blinds can be fitted at home without the need for professional assistant.
They are custom made to measure and sit on a horizontal runner. In homes with high, hard-to-reach ceilings, choose from either a manual or electrical set-up for your individual preferences.
For more information visit our "Ultimate Guide To Roof Lantern Blinds".
Flat Roof Blinds
When it comes to bringing the outdoors in, extensions of all kinds provide additional space and opportunities for your family. Flat roofs require a specific type of window blind to give you privacy.
Choosing a correctly fitting flat roof blind has a host of benefits that everyone will appreciate. When the weather heats up, they provide a barrier to prevent excess heat.  Along with the guidelines for proper window blind use, flat roof blinds can lock in heat during frosty days and prevent your external building from becoming unusable. This is called thermal efficiency. This vital factor is important when you consider that  a conservatory is an external structure and will have different heat containment abilities.
At Skylight Blinds, the most popular options for flat roof blinds are our Fakro and Velux collections. Using your window code, we can allocate you a perfectly fitting window blind that gives you control over light distribution. Most window blinds come with well-fitted seals that accentuate light blocking and reduce heat too.
Factors to take into consideration
Regardless of the style of window blind you choose for your conservatory, the main goals remain the same. If you're willing to invest in your window dressings, it is important they offer everything you're looking for.
Heat
The right window blinds for these largely glass structures can have a significant impact on the temperature of the room. Blackout thermal blinds lock in heat during Winter and preventing the room from becoming hot in Summer.
Glare
If you plan to use this space to work on your computer or watch television, glare can be an issue. For North-facing windows, glare can be an issue when choosing blinds. Again, blackout blinds are an ideal option for total eliminating of distracting light. Or translucent materials allow a soft glow to penetrate while stopping glare from becoming a distraction.
Room Use
Insulated rooms with good thermal efficiency are suitable for all year use. Conservatories were once only for Summer but are now used all year round. Correct flooring and the right window blinds will help keep a room heated and fully useable throughout the year.
Style
Window blinds complete your home as much as furniture and accessories. . There are a whole host of different options to choose including different colours and varying shades. Visually planning the layout of your room gives you the freedom to experiment with different looks.
Open plan living in your home
If you're considering the addition of a conservatory or orangery to your property, discuss your window requirements with an expert. Here at Skylight Blinds Direct, we have been supplying customers with high-quality blinds for their roofs for many years and have become experts in our field. Through customer research, we were able to develop the LanternLITE ™ to meet the requirements of lantern roof owners and continue to develop innovative ways to dress your windows.
If you would like an individual quotation or advice on your requirements, give us a call on 0800 008 6293. Alternatively, we can be reached via email on sales@skylight-blinds-direct.co.uk or via our website here. Our team of experienced and helpful advisors will be able to talk through the different options available to you. We'll come to a solution that works with both your budget and individual styles.