At the end of 2020, Pantone announced their Colour of The Year 2021 and surprised us all by highlighting 2 colours – Ultimate Gray (17-5104) and Illuminating (13-0647). In a year that gave us so much upheaval, changed the way we interact with others and threw us all into a state of apprehension, these two colours were deemed the perfect partnership needed to see us into a new year. Together Pantone stated that these two colours create a union of 'strength and positivity' with 'the promise of something sunny and friendly'.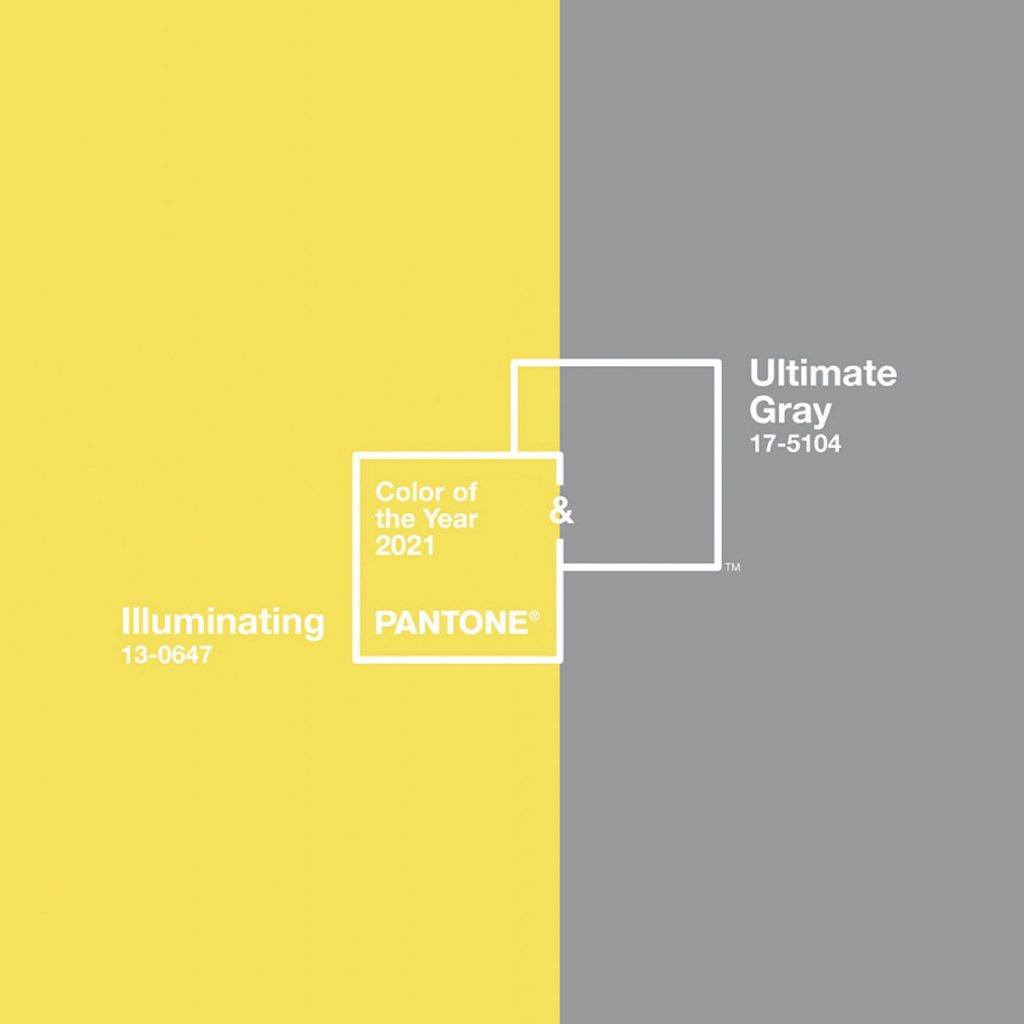 Trending colours have their place within interior design, much like trending fashion styles come and go. While some aspects of home decor stay put for many years, others are easily changed and upgraded to suit your style at any particular time. While perhaps not the most obvious choice, your skylight window blinds are the ideal place to place with style and colours to suit you in any particular moment. And this blog will explain why they are the perfect way to dust off the old of 2020 and step into a new and more optimistic 2021. 
Styling with skylight blinds
We may think of elements such as sofa cushions and photo frames as being seasonal – easy to swap and change when the mood takes us. However, modern skylight blinds have their own place within this category. Being such a dominant feature in many rooms, these accessories become a focal point that puts personality into a space. When chosen with block colours, they help to bring about the emotions attached to these hues (yellow, for example, is a happy and uplifting colour). When styled with patterns and details, they accentuate different features around the room. Not to mention the fact that window blinds offer a host of practicalities too. Allowing you to nestle into a room in privacy every evening, providing the perfect spot to work undistracted or simply ensuring you sleep uninterrupted, they are more essential than you may think. 
Pantone Colour of the Year 2021 x skylight blinds
Illuminating 
So, when it comes to the newly announced colours of the year, how can the choice of skylight blind help in your home? Illuminating (13-0647) is bright, cheerful and vivacious, 'imbued with solar power' and there to help us create a feeling of overcoming continued uncertainty. Yellow, in general, is used in situations to create a sense of excitement. It is bright and captivating, exuding a fresh feeling and one that promotes optimism.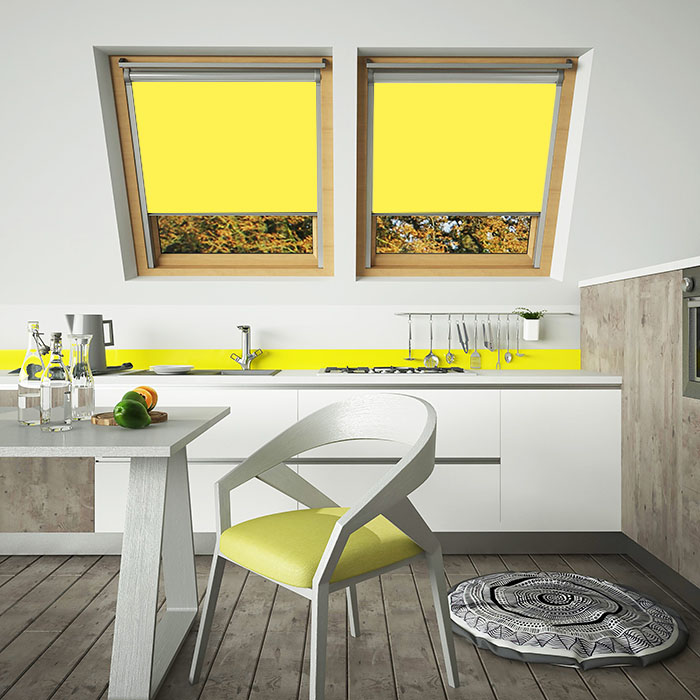 All of these attributes make yellow the ideal colour for many rooms. In bedrooms, it helps to boost a positive morning mindset and one that will set you up for the day ahead. In offices, it supports inspiration and holds you at your most productive throughout a day of work. And in nurseries, it works alongside other accessories to make the space feel inviting to the youngest members of your family. The Zest Translucent Blinds are an ideal option. Bright and vibrant in their tone, they are supplied with silver frames and bring that positive aura into any space. The translucent fabric blocks out direct light, reducing glare on computer screens and allowing rooms to remain both private and usable throughout the day. 
Ultimate Gray
After a year of uncertainty, Ultimate Gray (17-5104) is a solid and grounding colour that offers a feeling of peace. Taking from the pebbles on a beach and naturally weathered elements, it is there to offer assurance. We've all spent 2020 not knowing what is coming round the corner and need to have our human resilience nurtured in order to get through another year that faces us. The beauty of grey is its ability to become and remain one of the nation's favourite neutrals. It's versatility allows grey skylight blinds to suit any space – from kitchens and dining rooms through to conservatories and more.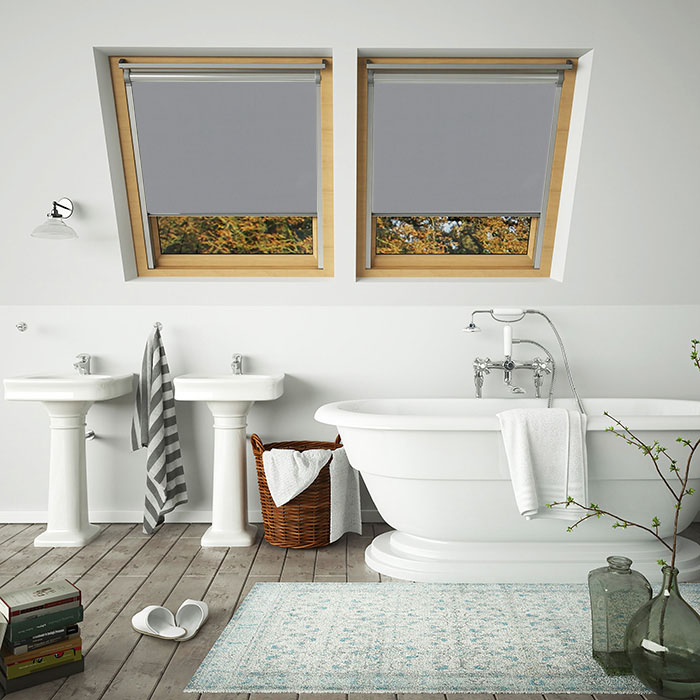 The Shower Proof Grey Skylight Blinds are the ideal hue – a mid-grey tone that sits beautifully within all rooms. The waterproof coating reduces the risk of mould or moisture-related damage, allowing these blinds to be used in kitchens and bathrooms as well. This doesn't stop them being used in nurseries, bedrooms or living rooms – it just gives you an additional level of protection, if needed. 
Skylight Blinds Direct – skylight blinds to help keep your home stylish
Here at Skylight Blinds Direct, we design and manufacture our window blinds to fit your windows perfectly. Whether you've fallen in love with Illuminating or Ultimate Gray, we have an option to suit your needs – in a variety of fabric options to suit your needs. If you have any questions about these our online options, please get in contact with the team here for our expert help.