A study by Finder found that 60% of the UK's adult population worked from home during the COVID-19 pandemic. And, of these, 26% planned to continue working from home either on a permanent or occasional basis. In line with this, more and more people are deciding to invest in a home office – a space where they can switch into work mode and focus on the job at hand. Whether this constitutes to a new extension or renovating the existing box room, it's important to consider both practicality and style when designing these unique spaces. Yes, you certainly want a room that supports your creativity and invites you in every single morning. But, you also want a space that is functional, allows you to work smoothly, and means you'll still achieve the same high-quality results you did when commuting. Read on to discover how the right blinds can help you do all of these easily.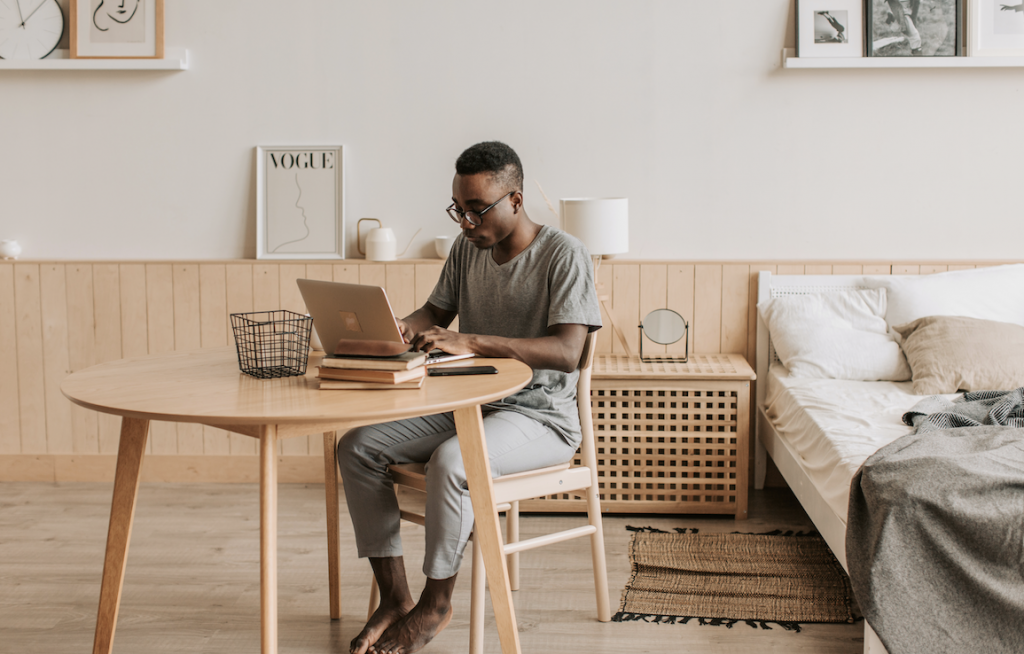 What are the main challenges to consider in home offices?
For many, this is the first time you've had to consider how to style and design a home office. And, while there are a multitude of reclining office chairs and adjustable desks to choose from, you certainly shouldn't overlook the window blinds you choose. Consider the activities you'll need to carry out in the space and the challenges you may encounter, including:
Activity: Zoom / virtual meetings
Challenge: Excessive light streaming in from behind or above you, making it hard for others to see you clearly. 
Activity: Screen working
Challenge: Glare making it hard for you to work productively without constant adjusting. 
Activity: All-day working
Challenge: Heat from direct sunlight streaming into a smaller room.
Activity: Computers/equipment running all-day
Challenge: Temperature. Multiple machines using electricity in a small space that is overlooked by an uncovered roof window is going to significantly increase the temperature in a room. And, you'll run up high household bills if you're constantly powering fans to bring this down to a workable heat too. 
As you can see, there are far more daily activities that can be impacted by a lack of control over light than you will imagine. And, if you're working with a roof window – which so many people are when using newly converted and extended spaces – the issues are even more significant. These windows are put in place to allow maximum light in. Great, if you're entertaining friends and family into the late hours. Not so great if you're trying to get that final presentation finished before the 5 pm deadline. So, what are your options? 
Translucent Skylight Blinds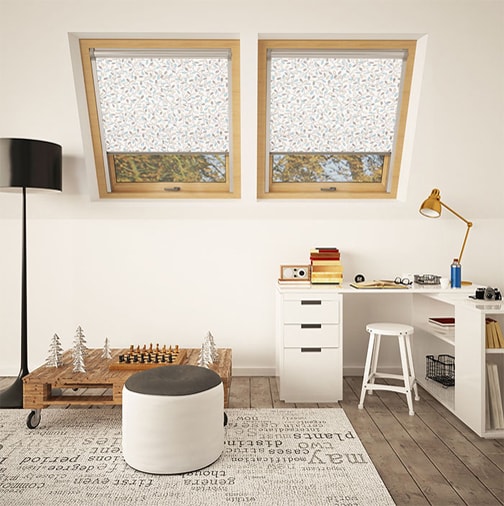 Your best option when it comes to dressing roof windows in an home office space is translucent blinds. Using a high-quality, woven material that allows a percentage of light through and mutes the rest, you'll still have the light needed to work smoothly. Some key benefits of this style of skylight blind, particularly in a working space include:
Significantly reduce glare –

The woven fabric takes the intensity out of natural light. This reduces the impact of glare, allowing you to work without interruption and more productively. 
Minimise harsh sunlight –

If you're regularly taking virtual calls, translucent skylight blinds will ensure your camera and image stays clear, without sharp rays of light interrupting the meeting. 

Reduce built-up heat –

While translucent blinds aren't thermal, they do help to minimise excessive heat. In a room where you're so dependent on electronics, this can be a huge benefit. 
When manufactured for roof windows, translucent blinds are fully bespoke. Each one is designed to fit your window model exactly, sitting locked within a full aluminum side channel. Being enclosed, the design reduces fading and extends the lifespan of the blinds. And, they are entirely cord-free, eliminating the risk of injury and creating a sleek design. With these woven blinds, you'll be able to pull them closed entirely while still having enough natural light to work easily. 
What styles to go for? 
Remember at the beginning of this blog, we mentioned how style and practicality should go hand-in-hand? Well, the beauty of translucent skylight blinds is that they come in a wide variety of different colours and styles. So you can truly create a home office that fits your Pinterest dreams AND allows you to work efficiently. 
For a classic, minimalist look, the Bright White Translucent Skylight Window Blind with White Frames promise not to distract. Blue is recognised as an intellectual colour, so the Denim Translucent Skylight Window Blinds may be the right support to help you knuckle down into those challenging tasks. Or, with orange thought to boost productivity, our Orange Translucent Skylight Window Blinds may be the best thing to help maintain your streak as Employee Of the Month for another 30 days. 
Overall, the choice is yours. What we can tell you is that the right translucent skylight window blind will certainly support you during your working week. And, that we also have an experienced and qualified team on hand to help you choose the perfect options. Browse the range on our website today or get in contact to speak to one of us today.