Simply put, skylight blinds add the ultimate functionality to your skylight windows. As well as fulfilling the interior of the home, skylights are useful, practical and well-designed. Rooflites can also be the finishing touch that adds the ultimate form of sophistication to the home.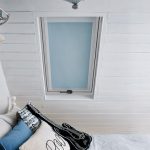 Letting the light shine through the roof top rather than through the walls, roof windows can impose a bright and vibrant impression on the home. However, there comes a time where you want to take control of the light coming in, right? Enabling you to take control of the natural light, skylights can efficiently change the atmosphere of a room within seconds. Whether it be a sunny day so you want to block out the bright light or even open the blinds to let the sun shine away, skylights do the job just right.
Yet another reason to bring in the use of skylight blinds in your home is the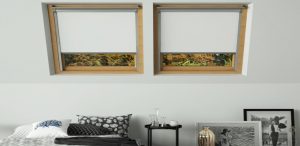 ability for them to merely reflect your personality and style through the different colours and designs available. Whether it be for the kids room and you want a bright and flowery print or a sophisticated nude colour to match the lounge area or bedroom, skylights can act as a tapestry-like furnishing to complete the design of a room.
Another great thing about skylight blinds is privacy. Just like with any other functional window, everyone needs privacy in the comfort of their own home. Skylight blinds ensure to deliver this in a sophisticated and subtle fashion.
Technology has evolved and has meant that motorised skylight blinds can now be fitted into your home! This adds the ultimate form of sophistication into the use of skylights and is a more modernised feature that should be incorporated into the home. With just one click of a button on your remote control you can adjust your blinds in the way that you desire. So you can just sit back and let technology do all of the work!
Solar powered skylight blinds are perfect for those windows that you struggle to reach and also for if you are snuggled up in bed and don't want to move to close the blinds!    The great thing about our electric skylights as they are solar powered!  There is no need to get in an expensive electrician.  They operate off a solar panel on the back of the blind which captures the sun and guarantees to work for at least 8 months without direct sunlight.  Even in Britain we can guarantee that!   All you need to do is install and let the sun do the work!  Window brands that we can make compatible electric blinds for include VELUX®, Aurora, Tyrem, Axis 90, Fakro®, Dakstra®, Dakea® to name but a few!
 See our website for more information on skylight blinds and the services we offer: https://www.skylight-blinds-direct.co.uk/ or call 0800 008 6293