Roof lantern windows. Not only do they offer a unique view of the world. They also allow us to flood rooms with light. Always striving to meet the needs of our customers, the latest addition to the Skylight Blinds Direct catalogue addresses the specific needs that come with flat roof windows. The DIY LanternLITE™ Honeycomb Blind is the answer. Practical, easy-to-install and affordable. This flat roof blind is extremely versatile and can be made to fit many different types of flat roof window.

The roof window trend
As a nation of interior designers, we are always on the lookout for new ways to create spacious and stylish homes. Light plays a key factor in home design. Small and large rooms alike benefit immensely from the light flowing through. And, specifically when electricity and heating bills continue to soar, natural light offers an alternative. We have recently noted an increase in light-filled lounges and orangeries.
Rather than moving house, homeowners are choosing to update their existing building. Windows were once reserved just for the walls of our home. Now it seems our roofs are becoming privy to this design choice too. Orangeries in themselves offer large degrees of light. When combined with the right roof window, this creates a room that is useable throughout the entire day. However roof windows can come with a selection of problems that most homeowners face.
Roof window problems
Some of the key problems noted by those who choose roof windows in their home include:
Blinding light – Roof openings allow direct sunlight to flood in. In some instances, they can create a blinding effect.
Solar Glare – A specific problem in offices and games rooms. Direct sunlight can cause distracting screen glare.
Winter heat loss – Glass is a bad retainer of heat. If uncovered, roof windows increase the surface space where heat can escape.
Summer heat box – And, on the other hand, direct sunlight can cause a room to heat up significantly. Without proper shade, your room may become unusable.
Solution?
The LanternLITE™ Honeycomb blind has been designed to meet this specific need.
This blind is so flexible in sizes.  Typically achieving 3m wide and up to 4.5m long.  For windows above this size we have the answer. The Twin Honeycomb LanternLITE™ roof lantern blind achieves sizes up to 3m wide and 8m long!.
In addition to the wide range of sizes this type of Lantern blind can achieve it also has a whole host of benefits that we discuss in this article.
Range of sizes
The flexibility of the LanternLITE™ Honeycomb blind comes in the range of different sizes it can be made in. The made-to-measure design fits perfectly in your window recess. Furthermore, this creates a sleek, contemporary and practical design. An exact fit will reduce the risk of draughts. Light is blocked out and heat is kept in throughout the year.
This cellular blind comes in sizes all the way up to 3m x 8m long. Contact our team today for more advice and tips.
Benefits
The Honeycomb also offers a range of benefits that all homeowners will appreciate.
Lightweight frame
This reduces the bulk and weight put on your roof. Due to this, the frame can be lifted easily during installation.
Compact
The blind takes up very little room in your wood window recess. It requires only 3cm of clearance and, therefore, won't create a bulky look when installed.
Value for money
You get a lot with the LanternLITE™ Honeycomb blind. Effective coverage, stylish design and a range of personalisation options. When combined together, it creates a cost-effective blind with exceptional value for money.
Easy-to-fit
The simple design has been chosen to allow homeowners to fit this overhead blind on their own. Eliminating the need for costly labour, this also allows you to choose when to install it according to your own calendar. No more waiting in for a fitter to turn up.
Reduced Energy Bills
Open plan living, orangeries and roof lanterns have become the latest trend amongst architects and designers alike. However, unforeseen money can be thrown out as heat is lost straight out of the roof window. The Honeycomb LanternLITE™ blind combats this by providing an effective heat barrier.
Flat Packed
For easy, cheap and effective delivery, the LanternLITE™ Honeycomb blind is delivered in a flat pack. Again, this allows you to order in advance during any renovation and store the blind safely until required. It also effectively reduces the cost of shipping for our customers and further increases its value for money.
Thermal blinds
One of the main benefits of this impressive roof blind is the inherent nature of the cellular fabric. The honeycomb cells trap warm air within their hexagonal structure which is especially effective during the winter. Because of this, not only is warm air trapped within the fabric of the blind but it is is also trapped between the fabric of the blind and the glass above. This creates a fantastic thermal barrier between the room below and the glass above. During the Summer, the LanternLITE™ Honeycomb blind reflects heat back out of the roof with the help of the fabric's light reflective backing. Both of these features allow you to use any room to its full potential, no matter the month or time of day.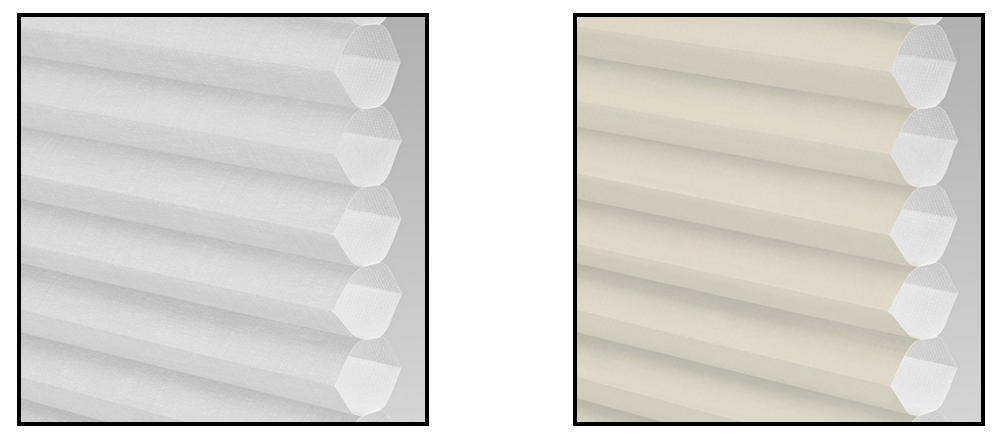 Variety of fabrics
Depending on your individual needs, the LanternLITE™ Honeycomb blind can be made from either light filtering fabric or blackout fabric. Light filtering materials allow you to enjoy every second of natural light while providing a buffer against hard glare. They are the ideal choice for living rooms where early morning relaxation can be done in peace and relaxation. On the other hand, blackout fabrics do just that – they block out the light to create a dark haven. This makes them best suited to bedrooms or cinema rooms where low light helps users to enjoy the space effectively.

Compatible with Somfy and home automation
The LanternLITE™ Honeycomb blind is ideal for technology-obsessed families. If you choose the electric skylight blind operation option, your blind will be fully compatible with the Somfy TaHoma hub, Google Home, Alexa and Honeywell devices. Your voice can be used to operate the blind from anywhere. Not only does this integrate with the other household appliances you own, but also improves usability should you misplace your remote.
Type of operation
For further versatility, homeowners can choose how they wish to operate their LanternLITE™ blind.
Manual Roof Blinds
Ideal for if you have no power in your recess and are looking for a budget-friendly option, this flat roof blind can be constructed with manual operation. There are two choices here; wand operation or crank operation.
Wand operation – A wand is used to open and close the window. Because of this, coverage can be adjusted to suit your needs.
Crank operation – For larger windows, a crank handle can be installed alongside the window. The user will crank the handle to wind the blind open or closed depending on their needs. Again, there is a great degree of freedom here in terms of the level of coverage achieved.
Electric Roof Blinds
If you're looking for a more automated operation an electric roof blind could be the answer. There are also two choices here; battery operation or hardwired remote control.
Battery Operation – A discrete rechargeable battery pack sits above the blind alongside a solar panel. To use, the homeowner must fully charge the battery for 12 hours before installing the blind into the roof recess. This will generate up to 6 months of energy. The solar power acts as an additional power source, trickle feeding the battery with additional electricity during this time. Once all the power has run out, the blind's battery can simply be recharged for another 12 hours for full power. Battery operation is the ideal choice for homeowners who want the benefits of motorised blinds but cannot run power cables through their roof space.
Hardwired Remote Controlled – If you are able to draw power from your roof recess, there is the option to hardwire your blinds into the mains power. Therefore, it eliminates the need for battery changing and allows you to control the blind using a supplied remote control.
With both the battery and hardwired control, the blind will arrive pre-programmed and ready to use.
Installation
As mentioned previously, the LanternLITE™ Honeycomb blind has been specifically designed for DIY installation. Instructions are included with the blind or are available in a digital format here. In under 10 steps, your blind will be ready to operate using which every system you have chosen.
If you have any questions before or during the installation process, contact our friendly team today. With a wealth of knowledge in blinds and window dressings, we are always on hand to help.
Alternatives
So, as you have seen, the LanternLITE™ Honeycomb blind is a versatile and effective choice for any room of the home. However, when it comes to dressing roof windows and lantern windows, in particular, there are a number of alternative options available on the market. Let's touch on these briefly here.
And not forgetting the original, the LanternLITE™ is the world's first DIY roof lantern of it's kind and where the inspiration for the LanternLITE™ Honeycomb blind first came. It is impressively easy to fit and comes in either an electric or crank operated manual operation. The sides of the product house all workings and guide wires. When installed, this creates a visible and wire-free look as you gaze up into the sky.  In under 7 days, this UK manufactured blind will be delivered to you. Click here for more information.
For more information visit our "Ultimate Guide To Roof Lantern Blinds".
Perfect for large flat skylights, lanterns and orangeries, the Eliminate is a premium quality flat roof blind that comes in a range of high-performance fabrics. With a maximum size of 4000mm width and 4600mm drop, it is perfect for large spaces that require adequate coverage throughout the day. A constant tension keeps the fabric tight at all times and with both heat and light control, it offers a simple alternative to the LanternLITE™ Honeycomb. Please note, the Eliminate roof skylight blind is only available on a measure and fit basis. Click here for more information.
If you would like more information about the LanternLITE™ Honeycomb, the Eliminate Roof Skylight Blind or the original LanternLITE™, contact us today. Our expert team can provide tips, advice and recommendations to ensure you get the most out of your roof blind. Call us on 0800 008 6293