Roof lantern blinds. Skylight Blinds. If you're just about to start redecorating your home, it might feel like there are a whole host of window coverings on the market you've never heard of. And, perhaps, coverings that you might need to improve the usability of your home. Over the past 12 months, we've noticed a significant increase in the number of homeowners looking to improve functionality, practicality and style in their homes. As a result of this, the number of queries into the different names has also begun to pop up.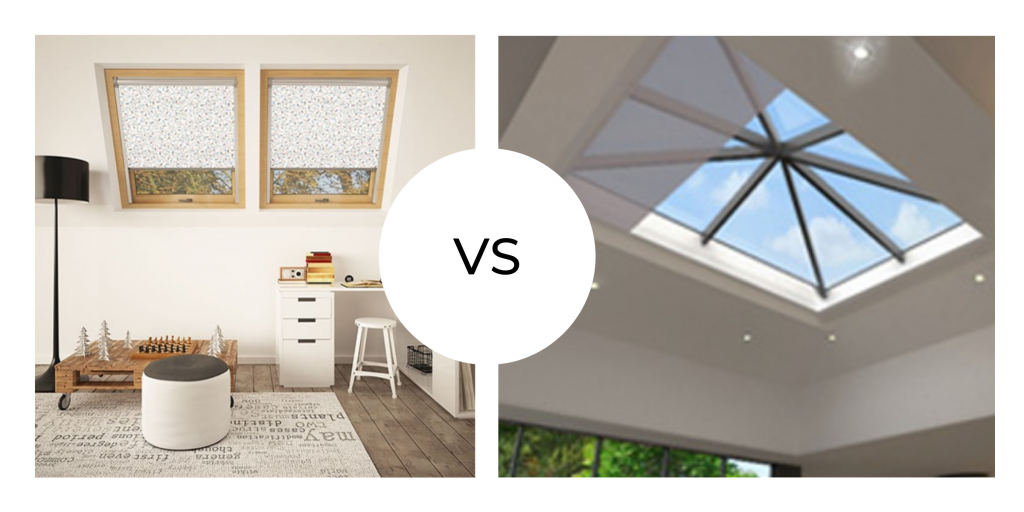 So, we thought we'd take the time in this blog to discuss the main differences and benefits of our two most prominent styles – skylight blinds and roof lantern blinds. 
Skylight Blinds
What are skylight blinds?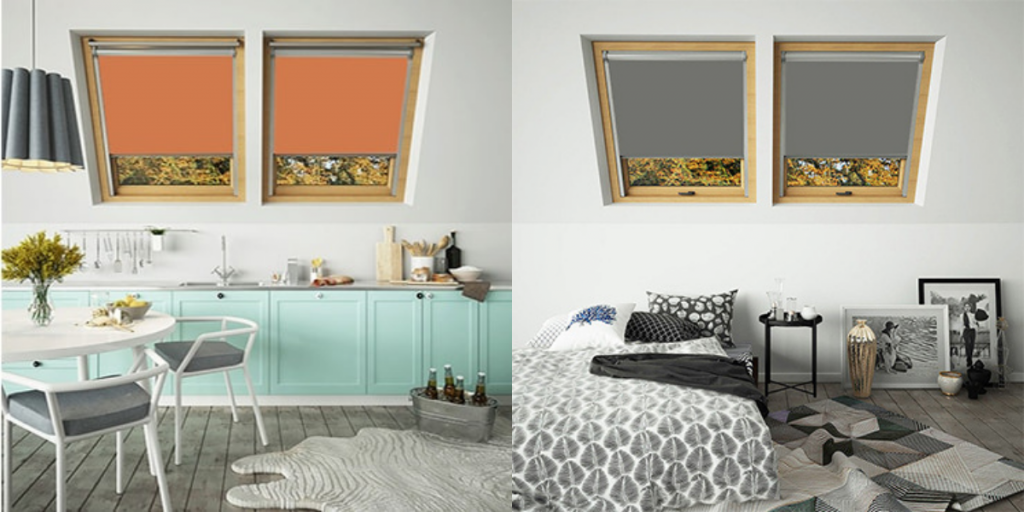 Also known as roof blinds, skylight blinds are designed to cover skylight windows. These are the windows installed in roofs (both in lofts and extensions) to help make the most of natural light. They are normally positioned in the most optimal position, drawing in light in spaces that may have previously been highly dependent on artificial lighting. While these windows are hailed for their benefits, they also make controlling light more challenging. Skylight blinds are designed to solve this issue. With a range of styles and operational designs out there, there's no restriction on how you want to style and use your room. 
What are the benefits of skylight blinds? 
Light Control
As we mentioned above, skylight windows are a brilliant way of allowing light into a room – particularly extensions or lofts where natural light has previously been limited. However, for practical reasons, there is always a benefit to being able to control this light. If your new space is an office or cinema room, for example, glare from direct sunlight can be exceedingly distracting. Equally, some rooms can become heat boxes if there are no ample solutions for managing the amount of external heat that can pass through windows. 
Skylight blinds offer the light control that any busy household needs. They can be opened up when internal light is lacking. Equally, if glare or excess heat becomes a problem, there are a number of operational methods that allow you to control the light with ease too. 
Manage Temperature
Thermal blackout skylight blinds have been designed for two very specific purposes – to help control light and temperature. Estimates state that up to 30% of residential heat is lost through uncovered windows. During the winter, this means that you will become more dependent on central heating systems. To reduce energy bills and the negative effects of internal heating (dry skin etc), thermal skylight blinds provide a barrier. They prevent internal heat from escaping, maintaining a consistent temperature for longer. 
Equally, during the warmer months, thermal blinds also prevent heat from passing into your home. In a similar manner to your central heating, this will reduce your dependency on cooling machinery, such as fans. 
Easy-to-use
One of the biggest concerns we find with customers is use. With skylight windows being so far out of reach, there is a worry that they won't be able to easily operate their blinds. However, this couldn't be further from the truth. Skylight blinds can be operated in a number of ways. Traditional designs come with a skylight blind opening pole. This telescopic device can be extended to allow you to easily open or close your blind as needed. 
Those with a penchant for technology can opt for an electric solar-powered skylight blind. These have an internal motor built into the design. Once installed, they absorb the energy from the sun's natural rays. With the supplied remote control, it only takes a few clicks and the blind will move up and down as needed. You can control blinds up to 35 meters away and can programme the remote to operate up to 20 blinds individually. So, while they may sit outside of your reach, skylight blinds still remain very easy to use. 
What rooms are skylight blinds ideal for? 
The beauty of skylight blinds is their versatility. In any room where you have a skylight window, you can install a skylight blind. Most people choose to use them in loft conversions or extensions, but they are ideal for:
Bedrooms

Kitchens

Living Rooms

Offices

Playrooms

Bathrooms

Home Gyms

Garages

Etc…
Roof Lantern Blind
What is a roof lantern blind?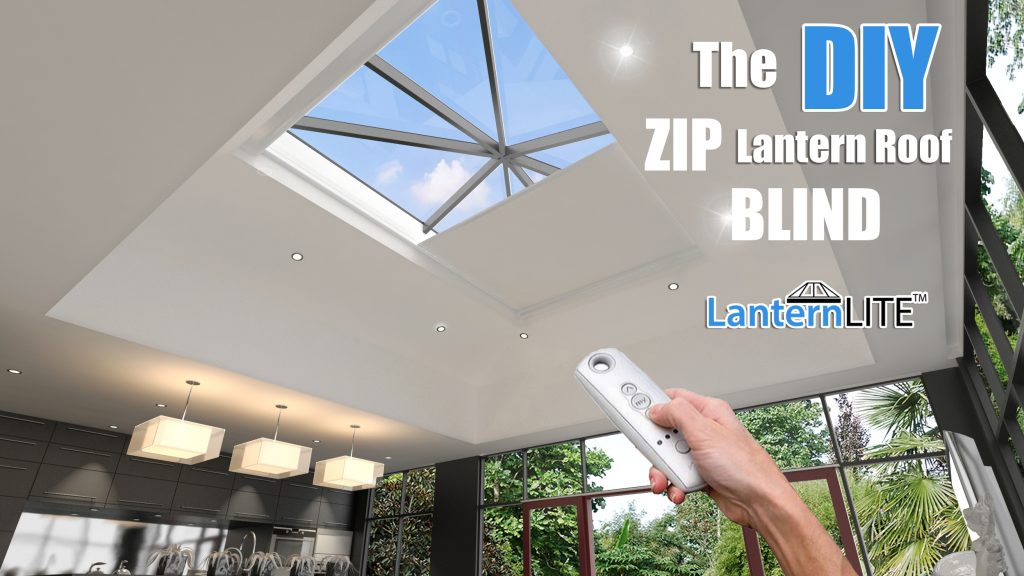 If you've had an extension or conservatory built, one thing you may be focusing on is natural light. Your Architect or Designer will have walked you through the main types of roofs available for your design. One of these is a roof lantern. These architectural structures are specifically designed to help draw in as much light as possible. It projects up – normally in a pyramid or crested elongated pyramid design. This makes the most of all available natural light and has become very popular in recent years. 
Roof lantern blinds are designed to pair with these structures. They have a unique design that sits flat along with the outer frame of the window. This means you can control light, when needed, and still enjoy the design you've chosen. There are a host of options on the market. Here at Skylight Blinds Direct, we have the DIY Honeycomb LanternLITE™ and the LanternLITE™ Zip Roller Blind. 
When do I need a roof lantern blind?
As they are designed for a very specific type of roof, you will normally know when a roof lantern blind is the best option for you. As lantern roofs are shaped in a pyramid style, they present a challenge when it comes to appropriate coverage. To keep the look as minimalistic and luxurious as possible, roof lantern blinds integrate themselves into the overall look of a room. They are fully electrical with channels that ensure the blind fabric stays taut over many uses. Let's take a look at the two options available here. 
Designed specifically for the easiest installation, our DIY Honeycomb LanternLITE™ Blind is a popular choice. It is made using a unique honeycomb thermal fabric that comes in a multitude of colours. This cellular design locks in heat during the winter and prevents it from entering during the summer. Air becomes trapped in the 'honeycombs' and means that your space remains at a comfortable and consistent temperature for longer. 
We have a whole guide on the thermal properties of this blind available here. 
Being lightweight and versatile, customers have often used this bling to cover flat roofs, domed roofs, and skylight roofs too. And the option of both manual or electrical operation also lends to its popularity. 
This style was originally designed for our customers with orangeries. The issue of these spaces being too cold in the winter and too hot in the summer kept arising. So, we designed the LanternLITE™ Zip Roller Blind. Available in both blackout thermal and anti-glare thermal screen fabric, it is an effective way to control temperature and light. 
This option is also versatile, being suited to dome windows, pyramid windows, light wells, sky pods, horizontal roof windows, and flat roof windows too. Again, we provide full installation instructions, meaning you can fit it quickly and without the cost of additional labour. And, it is available as a manual, mains-powered, or solar-powered option – each of which is visible wire-free.  
So, which one is right for you – skylight blinds or roof lantern blinds? 
Let's answer this question here. 
Skylight Blinds are perfect for anyone with a roof window who is looking for more light and temperature control. They are largely used in loft conversions and extensions. With a whole range of styles and fabrics available, skylight blinds are a cost-effective and practical way to dress your home. And many, including those here at Skylight Blinds Direct, are designed specifically for your window model meaning you gain the perfect fit every time. 
A Roof lantern blind is for those with roof lantern roofs, or similar structural windows. They are designed to combat the issue of coverage with unique architecture and provide ample thermal protection throughout the winter and summer. 
Here at Skylight Blinds Direct, we know a lot about covering roof windows. That's why we're always here to help you find the right solution for your home. If you have any further questions about our range of skylight blinds or roof lantern blinds, please do get in contact here today.