Now comes one of our favourite things to discuss, skylight windows. As specialists in this form of window blind, it is our job to help educate you on the different options out there. Before we can get to the dressing stage of your renovation, you need to choose the right windows for your new room. Today, we're going to talking you through the different kinds of skylight windows available on the market. Using this, and the expertise of your architect/builder, you'll be better placed to make an informed decision. So, read on to discover everything you need to know about skylight windows.

What are skylight windows?
Skylight windows are custom-built windows that sit on the roof of your home. You will normally find them set into a roof or ceiling at the same angle. You may also have heard of roof lanterns which are essentially flat roof skylights. For more information about these two kinds of skylight window, visit our previous post entitled "Roof Lanterns of Skylight Windows: What's the difference?" for more information.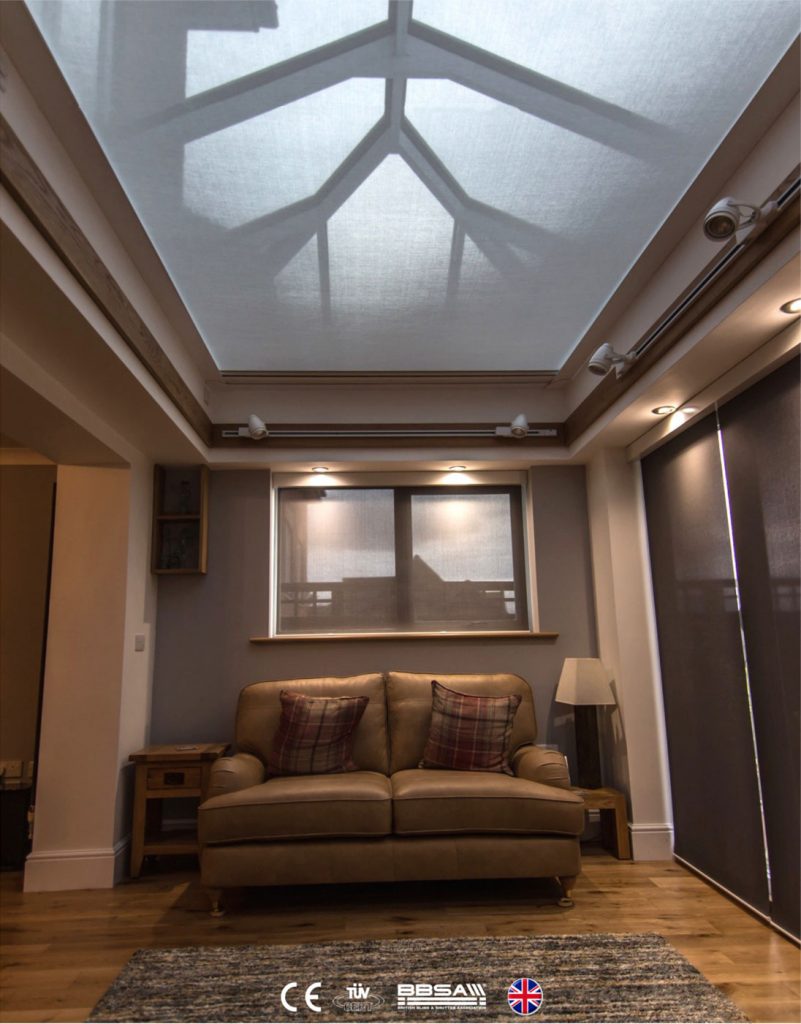 They are also referred to as roof lights, roof windows or even Velux® roof windows (even though Velux® is a brand as well as a type of window). Velux is a brand that has now become so synonymous with roof windows that it has become a generic term such as Hoover has for the vacuum cleaner. Generally, these terms are pretty much interchangeable. These windows are designed to let in optimal light. As they are normally placed directly above the room, they allow light to flood in all day long.
Different types of skylight
You will find three main types of skylight blind, although there are different options that fall under each category:
Ventilating – These skylights are suitable for all types of room. In particular, they provide adequate ventilation for rooms with excessive moisture. This could be the kitchen, bathroom or even a laundry room. Ventilating skylights work well on high or cathedral ceilings. They can be set-up for both manual and electric opening – depending on their height.

Fixed – Fixed skylights work as their name suggests – they are fixed in place. They provide no ventilation to your home but can give light to out-of-reach areas.

Tubular – These skylights are primarily used in hallways, pantries, and other enclosed spaces.
Alongside these three main types, the type of roof on your property will have an impact on the skylight you can have. Pitched roofs are most common in loft conversions. This is due to the general shape of British roofs and space we have to work with. Within this, there are a number of different skylights available for you. See the main three below:
Centre Pivot Skylights
These are recognised as the most popular type of skylight. As the name suggests, they pivot open around a central, fixed point. This operation is easy to use and lets in suitable ventilation for any living space. You can find centre pivot skylights with manual, electrical or solar powered operation – making their operation easier on taller ceilings.
Top Hung Skylights
These allow you to get the best, uninterrupted views of your surroundings. They feature hinges at the top of the window and open outwardly, reducing the risk of bumping heads or injury. Top Hung skylights are perfect for windows installed at eye height. They can also meet the escape requirements set out by your local building authority (see our legal requirements blog post here for more information).
Side Hung Skylights
Similar to the ones above, Side Hung Skylights also allow for optimal views of the local surroundings. They open in the same way as a door and allow you to benefit from high levels of ventilation. Make sure you have the correct safety features installed if you're planning on using these around small children or pets.
What materials are they made of?
With skylights, you will find two main materials used in their construction. These are:
Plastic or Acrylics – These are a sturdy and economical choice. However, without the appropriate coating, they can become tinged with yellow over time. This is due to exposure to direct sunlight. They will also allow UV rays into your room, which could be potentially harmful to your skin.

Glass – Glass skylights are a more expensive option. However, they are also more durable than acrylic alternatives. Therefore, if you have the money, they could be a smart investment.
Light Shafts
Another thing worth considering is the design of your lift shafts. When it comes to designing a loft conversion, light is normally a key requirement. Choosing the right light shaft can increase the light distribution throughout the room instantly. There are 3 main light shaft options to choose from:
Flared light shafts – As the name suggests, these shafts flare out from the ceiling. This angles the light outwards and takes advantage of the sun's path across the sky.

Straight light shafts – These are the best option for flat ceilings or those with limited ceiling space. They will still allow the light to flood in, however, for awkward corners, you may want to consider additional skylights. Straight light shafts are also a great solution for roof obstacles such as chimneys.

Shaft-less skylights – These are the best options for cathedral or highly sloped ceilings.
Energy efficiency
Taking the energy efficiency of your skylight windows into account will have a significant impact on your energy bills. Things including the lights position or specialist tints will help make the most out of natural heat and sunlight.
When it comes to position, you want to make the most of natural light throughout the entire year. Remember that, here in the UK, we are limited by the amount of sunlight we get in a daily period. Therefore, you'll want to ensure each room is lit appropriately – at the right time and for the right period. Think about the purpose of your new room when making your decision. As a bedroom, you'll probably want to avoid excessive light in the evenings as this could disrupt sleep. Similarly, if you're planning on creating a new office, glare is the last thing you need as you rush to complete that 3pm deadline.
Our general rule is this:
North facing skylights will provide a steady stream of light. This is without absorbing heat during the summer or releasing too much during the winter.

South facing skylights will give you added heat during the winter. However, they can also retain unwanted heat during the summer months.

East facing skylights will provide good heat and light in the mornings.

West facing skylights will provide good heat and light in the afternoon.
Take into account when you'll use your loft conversion room the most. This should help you come to a decision in terms of positioning.
Other things to think about are the range of added extras available to boost energy efficiency. Things such as heat-absorbing tints and UV or low-emissions coatings can all be used to reduce your heating bills. It is also worth considering motorised window blinds here. Many can be programmed to close when the sun sets to lock in as much heat as possible.
Skylight Brands
Choosing the right brand of skylight for you can come down to many factors. From budget through to the look you're hoping to achieve, the choice is really up to you. Below, we have listed the skylight brands that we supply, giving you the freedom to find the right option for you. Click through on to each one to visit our website where you'll be able to see the range of window blinds we have on offer. You never know, this might help with your decision!
Now over to you
You may already know the exact type of skylight you're looking for. In fact, the light in a room may be of the utmost importance to you. Or, you may simply be desperate for space and just need a workable/liveable room. Take a moment to familiarise yourself with the different skylights on the market. Although your builder and architect should have a wealth of knowledge, you should be in a position to make informed decisions.
Skylight windows are a vital addition to most loft conversions. They allow light to flood into a once dark and dingy living space. In turn, they are the source of ventilation that prevents mould and other moisture-based issues. For houses located in the most picturesque of environments, they provide a gateway into nature – a portal from which you can appreciate all that is beautiful about your local surroundings. Make sure you choose the best skylight windows for your needs and you can be sure your new room will get much appreciation.
In our next post, we'll be moving on to our all-time favourite aspect of loft conversions – choosing your skylight window blinds. Stay tuned.