As the housing market slump slowly begins to recover, home builders are finding that they have to become more innovative in their designs as the industry is pushing more for features, lower prices and eco-friendly building materials. Home buyers want a home that is comfortable, easy to maintain and that is energy efficient. These two factors have created some interested new home construction and renovation trends for 2018. Keep reading and let us share with you some of our favourites.
1. A More Natural Look
From flooring and walls, to roofs, windows and skylights, home designers are adding more natural touches to their newest designs. Bleached, limed and washed-wood finishes are the popular choice and manufacturers are supplying the demand.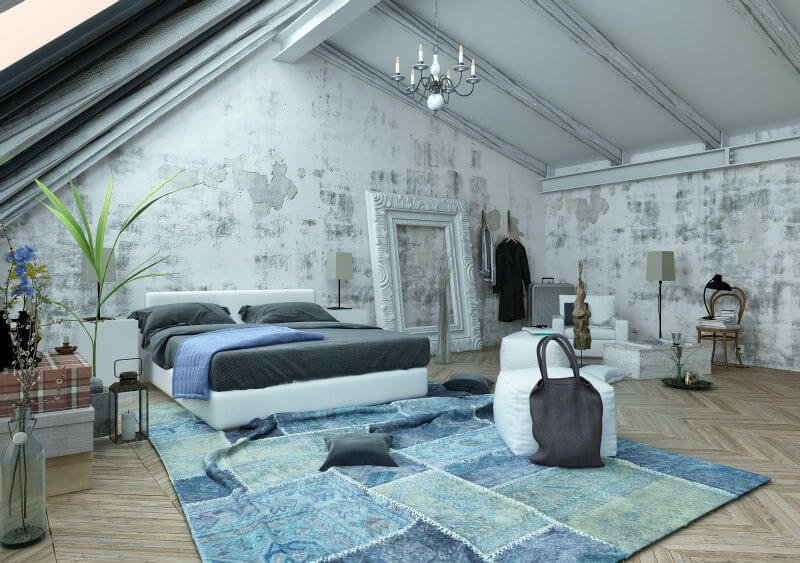 image credit https://www.homestylecentral.com/attic-bedroom-ideas/
2. Clean Lines with More Open Space
Open floor plans and more contemporary designs are becoming more popular in new home designs. Builders are adding skylights to every room in the house for more natural light and better ventilation and exteriors are getting cleaner designs with standing-seam roofs. An abundance of glass and lift-and-slide doors, designed to open and disappear, bring the outdoors in.
3. Let the Outdoors In
Why limit yourself to your indoor spaces when you have so much square footage outside? The backyard is more than just a patio and some foliage now days. Builders are incorporating pizza ovens, fire pits and outdoor kitchens that rival some of their most luxe indoor counterparts.
4. High Tech Game Rooms
Home entertainment is important to new home buyers and many are choosing to use their extra living space as a dedicated game room or media hub. Flat screen TV's, home theatre systems, even a renewed focus on the wet bar, are the latest trends for new home building or renovation projects.
5. Eco-Friendly
From energy saving appliances and geothermal pumps, to clean-air filtration systems and skylights, new homes are being built to be more eco-friendly and healthier for the homeowners.
New home building trends for 2018 are adding more convenience features, eco-friendly touches and a more natural approach to home design that enables homeowners to have a custom-built home for less money.