As we have discussed in previous posts, loft conversions are continuing to rise in popularity. Today, we'll be discussing VELUX™ compatible blinds and their popularity in these popular new spaces.

Alongside loft conversions, kitchen extensions also benefit from skylight windows. The reasons for this are numerous but commonly fall down to cost and value. The price of housing is a continual rising scale and one that threatens to shoot out of reach for the younger generation. For those already on the property ladder, finding ways to boost this investment produces significant benefits.
Value
Loft conversions do just this. On average, they add 20% value to an existing asset. According to Nationwide, a £300,000 home could benefit from approximately £60,000 in increased value after a loft conversion. And, with an average conversion cost sitting between £30,000 and £40,000, it is a viable financial addition.
Cost of moving home
The cost comparison between moving home and adding a conversion is another popular loft renovation benefit. In research from Compare My Move, the cost of buying, selling and moving home in 2018 is around £8,885. When you combine this with the rising cost of homes and the increase in your mortgage payments, moving home to gain more space is costly work.
If we look at research from Zoopla, the difference between an average 2 bedroom flat and a detached 3 bedroom house in the UK is approximately £148,000. Combine the larger monthly mortgage payment with moving costs and it starts to rack up.  So, by adding a loft conversion to your home, you gain space without uprooting your family. And, the money saved on this can be spent on dressing your room to perfection.
Change
Perhaps you simply want to incite change in your family home. Sometimes, it just takes a lick of paint to make your house feel like new. Or maybe you need a new project and a loft conversion is the one that incites the most intrigue. Regardless, loft spaces should be designed with the help of an architect to optimise on space, design and – specifically important here – light.
Skylight Window Industry Leaders – VELUX™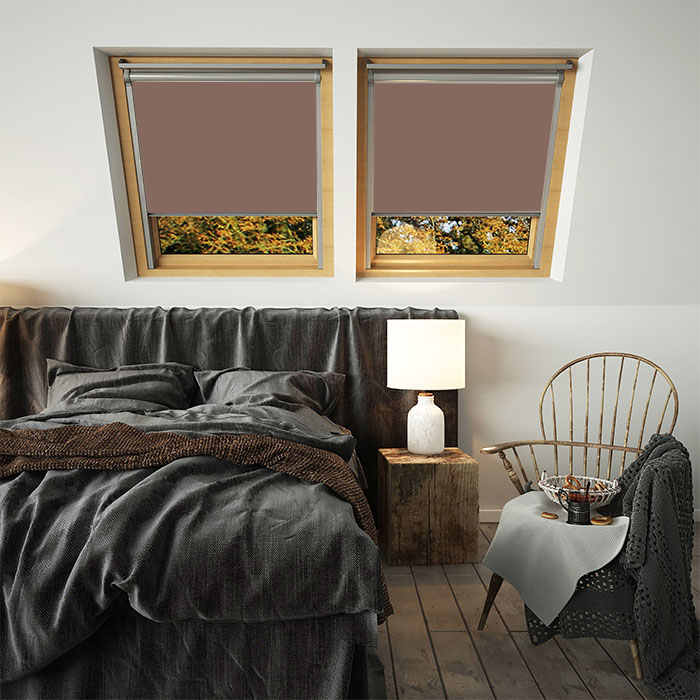 Drawing in natural light in loft conversions is ordinarily left down to the skylight windows. Architects and builders will locate the ideal place for these windows – angled to draw in the most sunlight and helping to regulate the heat in your new space. And, when it comes to choosing the right brand, many people opt for the industry leader – VELUX ™. Other than being the most recognisable brand, there are a host of benefits that come along with this signature name.
With over 70 years in the industry, VELUX™ are experts in their field. They produce a wide range of different skylight options, from centre-pivot and top-hung through to unique balcony windows and ones specifically styled for roof terraces. Each style is durable and long lasting – suited to high traffic environments and rooms that are used to their full potential. And once they're installed, these windows stand strong for many years to come.
The need for skylight blinds
Regardless of the skylight window brand you choose, the right window blinds are vital to ensuring your space is used to its full potential. They help homeowners to regulate light. In bedrooms, light distribution is a contributing factor to poor sleep and reduced health. Having the option to completely black out a room gives you the opportunity to fall into a naturally induced sleep. Equally, in office spaces, excessive light can cause glare. If this falls on a computer screen, this light distraction can interrupt work and create an unproductive environment. Sheer blinds will diffuse strong light, allowing the room to be used without harsh rays
Skylight blinds also play a vital role in regulating excessive heat in a loft conversion. Skylight windows are normally angled upwards, towards the direct sun and seeking the most light throughout the day. While this helps to brighten the room, it also exposes it to direct heat. At the heat of Summer, this has the potential to produce a 'heat box' environment where the room becomes near-on unusable. The right skylight window blinds can offer a barrier against unwanted heat when used correctly. Equally important, the material used locks out the cold in Winter and helps to reduce household bills.
Can they help with sun exposure?
The durable material's used also play a vital role in preventing damaging UV rays from reaching your skin. The sun releases two types of UV rays that make their way through the atmosphere to reach our skin – UVB rays which cause sunburns and UVA rays that cause premature ageing. UVB rays are absorbed by glass, however, up to 75% of UVB rays can still penetrate through. Many skylight window blinds are specifically designed to combat this problem. When rolled down, they offer a barrier between these harmful rays and offer peace of mind.
So, the importance of skylight window blinds is something that cannot be denied. And, when it comes to finding styles within your budget, VELUX ™ compatible blinds provide all the durability and style needed. Each one is made-to-measure, designed to fit your windows perfectly and provide a seamless look without fail. Not only does this tie together the look of your loft conversion but it gives you inspiration for your interior style. Here at Skylight Blinds Direct, we stock a wide selection of premium-quality blinds, each one designed to fit your needs. By making use of high-quality materials, finding blinds that best suit their new environment is easier than ever before.
Alongside the exceptional pricing, some of the main reasons to choose compatible blinds for your VELUX ™ windows include:
Short lead time – Our blinds are manufactured here in the UK. This means they take just 3 working days to arrive.
Easy to fit – they are quick and easy to install.
Choice of frame colour – We offer white frames as well as silver options to suit your needs.
A wide range of colours and fabrics to choose from
Matching Roller Blinds – In dormer conversions, we can produce roller blinds in the matching fabric for a seamless look
Free samples – Contact us today and we'll send you samples of your favourite fabrics


Blackout Thermal Blinds for VELUX™ windows
Ideal for bedrooms, blackout thermal blinds are constructed from multiple layers of fabric. Nestled in the centre, a light-blocking liner acts as a barrier against the sun's rays. While this provides an effective block against the harshest sunlight, it also works to regulate a room's temperature. This can be used in two ways – to keep a room cool or to keep it warm. The blackout liner prevents the heat from strong sun rays filling a room to excess, thereby reducing the 'heat box' effect. In opposition, the material's thermal properties lock in the heat collected during the day. This reduces the need for high household heating consumption. So, blackout thermal blinds aren't just stylish but also provide a host of benefits too.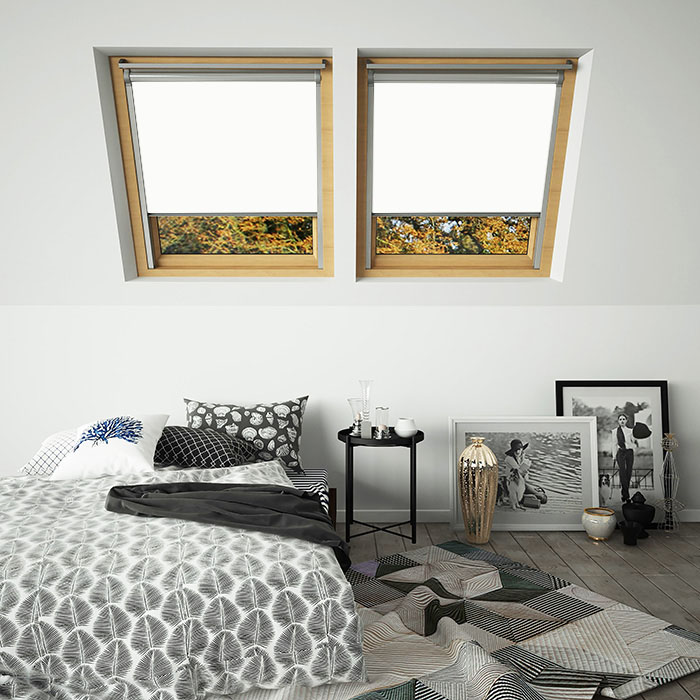 For the budding interior designer, style takes centre stage when it comes to blackout thermal VELUX™ compatible blinds. In monochrome or minimalist decors, our Ice White blind with a silver frame gives an elegant simplicity and proves that lighter colours can still work effectively. At the other end of the scale, our Aubergine blackout VELUX™ compatible blind has a rich and decadent beauty – ideally matched with other jewel colours and richly pigmented woods.
To inspire the younger members of your family, our made-to-measure skylight blinds also come in a range of printed fabrics. Our Polka Dot Grey VELUX™ compatible blind boasts a soft grey and white pallet; perfect for nurseries and children's bedrooms. Or, for the daydreamers, the Kites blackout skylight blind features just that – red and blue kites soaring off into a cloud-drenched sky. A particular favourite of the team here, there is a whimsical charm to this print that sparks childhood memories and true innocence.
Translucent Blinds for VELUX™ windows
Loft conversions provide the ideal space for offices or study rooms. They are away from the body of the house, therefore likely to be quieter and more secluded. The space you've created becomes your own, allowing your brain to focus (or wander, depending on the nature of your profession). Here, skylight blinds take on a new importance. Glare is the number one issue professionals face when dealing with new skylight windows. The drive to get as much natural light into a room also increases the risk of the sun's rays landing on your computer screen.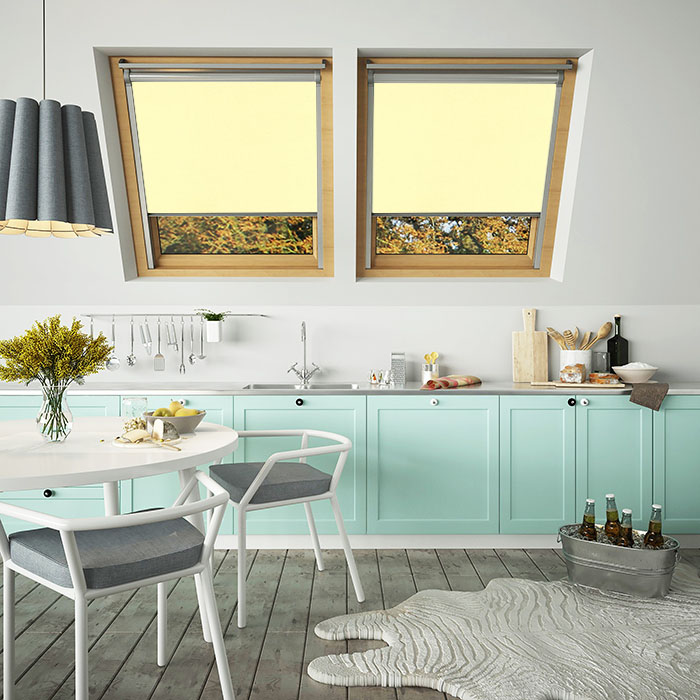 This is a consideration to first take into account when designing the layout of your room. Digital screen's placed opposite main windows are likely to fall victim to the effect of glare. However, if your loft space isn't blessed with excessive space, this issue could become commonplace. Here enters translucent blinds for VELUX™ windows. Also known as 'light-filtering' window blinds, they are constructed from a tightly woven material which allows a degree of light to pass through. The fabric works to filter sunlight, creating a soft 'glow'. In working environments, this provides the light needed to complete a task at hand, minus the harsher rays.
What styles are out there?
As with blackout options, these VELUX™ compatible blinds are designed to fit easily onto your skylight windows. From neutrals through to vibrant pops of colour, style needn't take a back seat or become a second thought. The Hopsack translucent skylight window blind has a dusty brown colour and one that pairs well with all manner of wood grains and stains. Bringing about a sense of joy and happiness, the Zest VELUX™ compatible blind is a bright explosion of sunshine yellow. Style alongside home accessories that make your heart sing or use as a single feature asset in the room. And, for homes where primary colours form the basis of your interior design, our Denim translucent blinds for VELUX ™ windows fit seamlessly into any room. All it takes is one of these made-to-measure translucent blinds to be rolled down and you can focus on that important project or client call.
100% Waterproof Blinds for VELUX™ windows
When it comes to styling bathroom, kitchen loft conversions or lower ground extensions, window blinds tend to be left as an afterthought. They are notoriously difficult to choose; primarily down to the room's high moisture-content. Traditional blinds will absorb odour, stains and grime.  Eventually, they will become difficult to clean. You run the risk of moisture-related damage such as mould and mildew. These which can reduce the lifespan of your blinds.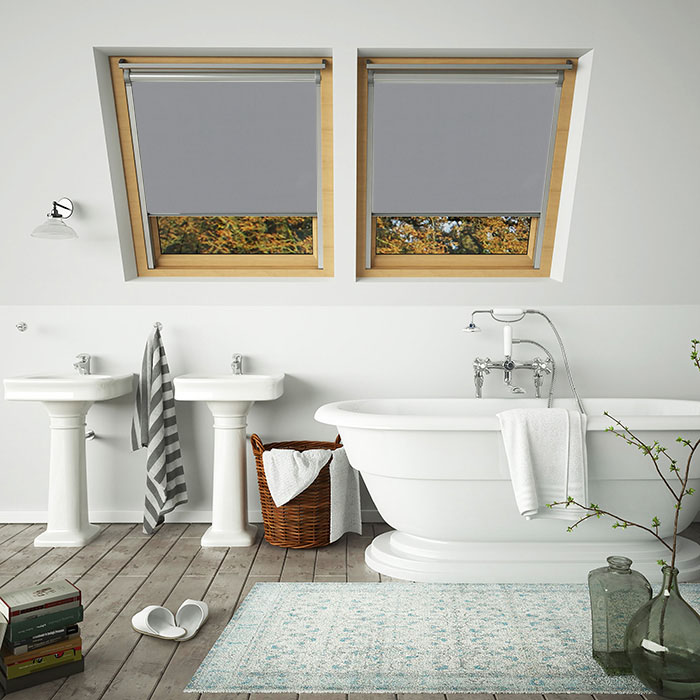 There is a need for privacy during showering or dressing in bathrooms. This is the job of effective window blinds. The key issue here is finding a blind that offers this discrete environment, without blocking out all light and making the room unsuitable for purpose. 100% waterproof blinds for VELUX™ windows offer an effective solution. The high-quality material used has been treated with a water resistant coating. This prevents the build-up of liquid damage, creates an easy-to-clean environment and allows you to dictate light distribution accordingly.
What styles are out there?
Our Beige waterproof VELUX™ compatible blind embraces neutral colours. The showerproof material allows it to be used close to sinks or near to shower enclosures. To maintain effectively, wipe down your waterproof skylight blinds as you would the glass splash-back walls. You'll minimise the build-up of liquid and allow the true colour to show through. For monochrome lovers, opt for either our White or Black showerproof skylight blinds – each one well-suited to its role and offering you privacy as needed. All our waterproof skylight blinds are fully compatible with VELUX™ windows and have an easy-to-fit installation process.
White or Silver Frames
Made-to-measure blinds should give that bespoke feeling, without the extortionate price tag. In our online store, you'll find both white and silver frames VELUX™ compatible blinds to choose from. The decision here comes entirely down to personal preference. Our silver framed skylight blinds style well with other metallic accessories. They give a premium look and one that ties in with the room's design. White frames create a striking contrast against wooden borders. They sit particularly well with white windows. Consider how the colour of your blinds will sit next to the frame and whether this ties in with your home décor vision.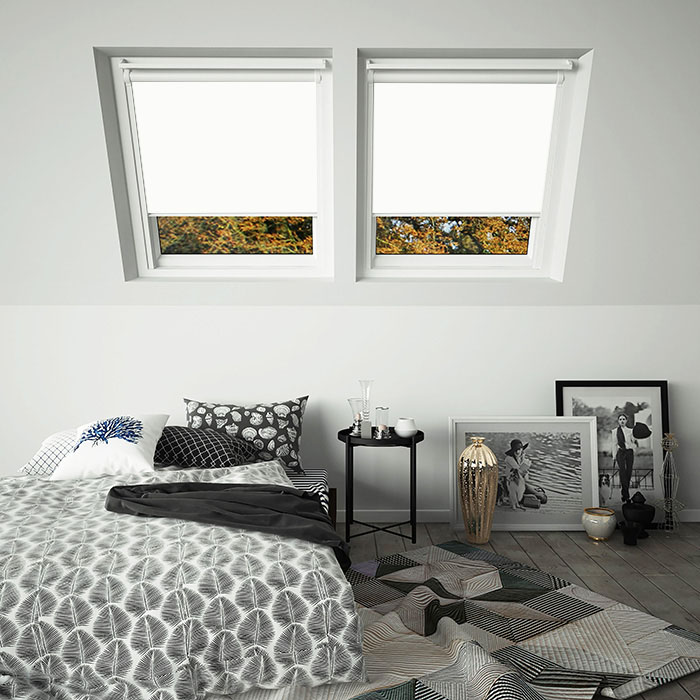 What styles are out there?
Many of our fabric colours are available in both white and silver frames. Take the classic Ice White VELUX™ compatible blind. The white frame offers elegant simplicity. It allows the blind to blend in effortlessly with brighter walls. In comparison, the silver frame option provides a contemporary twist and one verging towards the industrial trend. Our Stars at Night blackout VELUX™ compatible blind has its own unique magic, designed for dreamers. No matter whether the blind is rolled down or up, losing yourself in hours of stargazing is easy. This made-to-measure skylight blind also comes in both a white and silver frame. Both options add a unique twist. The white picks out star accents in the pattern while the silver works to focus your attention on the starry scene.
Even our 100% waterproof blinds come in silver and white frames – ensuring nobody has to scrimp out on style. The Showerproof Grey VELUX™ compatible blind combines two great home design loves; modern greys and minimalist frames. The silver option gives a streamlined and single tone finish. In contrast, a white border pops out visually and makes creating a grey/white haven easier. All of our frames are easy-to-fit and are tailored specifically for VELUX ™ skylight windows.
Solar Powered Motorised Blinds VELUX™ windows
Convenience or luxury – however you look at it, solar-powered motorised skylight blinds are a practical option in any loft conversion. They are constructed with an in-built, rechargeable solar powered battery. This eliminates the need for any electrical charging. Using the remote, you can independently operate the blinds from a distance of up to 35 meters. You can also operate up to 20 blinds individually. One click of a button and your skylight window will adjust in coverage. This means you can alter light distribution with ease. Alongside being wonderfully modern, solar-powered motorised blinds for VELUX™ also offer a practical solution for high or hard-to-reach windows. They require no wiring during installation and are entirely child-safe too.

What styles are out there?
The scope of style options for motorised blinds sits alongside other VELUX™ compatible blinds in our collection. White frame and silver frame options exist to maintain your sleek design goals. Patterns including our Dino Green blackout motorised skylight blind transforms a child's en-suite into their own prehistoric wonderland. Orange, brown and green dinosaurs wander the earth. High-quality, made-to-measure construction perfectly blocks out harsh sun rays and maintains a comfortable temperature. Our Bright Green translucent solar powered motorised VELUX™ compatible blind is bright, unapologetic and strong. The woven material creates that soft glow we spoke about earlier with a splash of the richest colour too.
Bathrooms and kitchens are included in this modern venture with our solar powered 100% waterproof skylight blinds for VELUX™ windows. The muted and neutral pallet of colours pairs with a remote control design. It offers elegance, style and practicality to the modern family.
Now to you
VELUX™ compatible blinds are designed and manufactured to save you money. For each one, we use the dimensions of your specific window and create it with high-quality materials. Skylight Blinds Direct are industry leaders with over 15 years of experience in our trade. In our dedicated factory, we manufacture our own brand skylight blinds to fit your VELUX™ windows. This process allows us to keep cost low without scrimping on quality or design.