Here at Skylight Blinds Direct, it's no wonder that we're passionate about roof windows. All shapes, sizes, and brands – these gateways to the outdoors allow natural light to flood your home and offer the perfect spot for a touch of interior personalization. While there's been no lull in the popularity of these home additions, we have noticed that the request for skylight blinds has been steadily increasing – particularly during 2020. Additionally Country Living cited roof windows as being one of the 'Top 15 Home Decor Trends Predicted to Be Huge in 2021'. So, we're wondering 'why are roof windows continuing to rise in popularity?'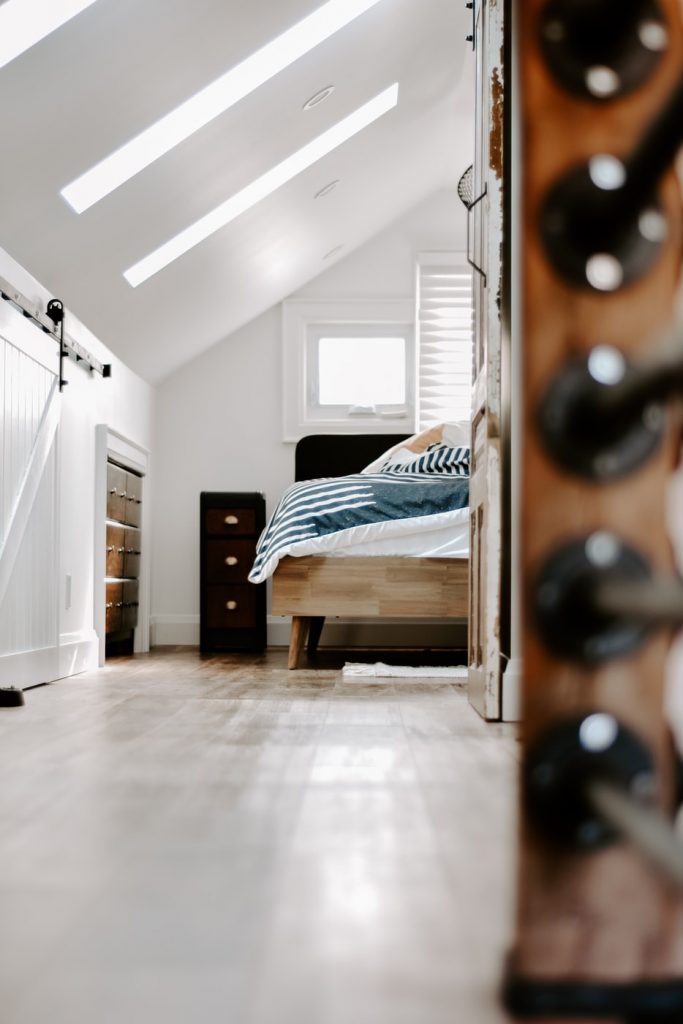 Where do you commonly find roof windows? 
If we take a look at some of the most common locations for roof or skylight windows around a home, it gives us a clearer understanding of why they are, seemingly, becoming more and more popular. In general, you'll find roof windows in:
A loft conversion

An extension

Some conservatories (depending on design) 
The rise in requests for skylight blinds can, therefore, be linked to an increase in these large-scale construction properties. Particularly in 2020, the entire nation has spent more time at home than ever before. We're attempting to turn our houses into offices, classrooms, gyms, and more while also seeking out comfort and relaxation. With this comes an increased awareness of our needs and requirements. A home that once felt perfectly adequate in size can now feel as if it's caving in with the abundance of activities we're doing in them every single day. 
Houzz, a social media platform solely targeted towards interior designers, reported that more than half of homeowners (51%) were tackling large building projects in their homes during 2020. Adding space and style to our homes makes way for the need to furnish the new spaces around us. And, from this, comes the rise in extensions and loft conversions. 
Why are people extending rather than moving? 
It was once considered too expensive and too much hassle to build extensions. However, with house prices continuing to soar and finances stripped back in line with the pandemic, finding ways to add extra space to a home is vastly becoming the more favorable option. Extensions are:
Cost-effective – A double-story extension will cost between £1,500 and £2,500 per sqm. The actual cost will depend on several factors, including your location, architect fees, and planning permission if needed. However, when compared to moving home and up-sizing, this can be a much more viable option – particularly in the current climate. 
Sometimes categories under Permitted Development – This means that you won't need to gain planning permission. If you're lucky enough to have a design that meets the requirements here, you'll save money and time without skimping on style. 
Value boosting – Particularly true if you live in highly-populated areas, added space on to your building can significantly increase its value. This becomes more prominent if you're adding on a bedroom (and more so, if it has an ensuite). 
Family-friendly – Many families can be turned off from the idea of relocation due to the upheaval children may face if they have to leave their schools. Equally, homes are commonly located near friends and family. If you love the area you live in, stay put and add space. 
While we're talking about extensions, we can't forget loft conversions. For many homes, this is the easier method of extending whereby you simply turn the unused or overcrowded storage space at the top of your home into another room. Depending on any structural changes and access issues, converting this space could cost as little as £20,000. With this, you gain additional space, added property value, and views that cannot be challenged through those (you guessed it) skylight windows. 
So, what are your options?
The specific skylight window you choose will come down to price and functionality. If you choose to work with an architect or even an experienced builder, they will be able to point you in the right direction. There are a host of brands available on the market, from the well-known Velux® through to Optilight® and Roto. Do your research – you'll want to make sure you find the right solution for your budget, the needs of the room, and the look of your new space. 
However, it's the skylight blinds where we come in to help. Once you've had your new roof windows fitted and the new space has been signed off – we have an abundance of options to choose from. 
Blackout Skylight Blinds

Have you transformed your loft space into a new bedroom? Or is the top half of your new double-story extension about to become the master bedroom with en-suite, of your dreams? Then, you'll want a stylish set of blackout skylight blinds. Made from multi-layers and internal light-blocking fabric, these channel-set blinds will block out all light when rolled down. Allowing your body to switch into sleep mode, they are perfect for bedrooms (and even more so for nurseries and children's bedrooms. 
Even with these blackout properties, you've still got a wide selection of colours and patterns to choose from. Cream for your neural haven, Stars at Night for a whimsical wonderland, or Baby Pink for a girly sanctuary. 
Electric Solar Powered Skylight Blinds 

Roof windows are notoriously out-of-reach – they have to let in as much light as possible. And while this looks great aesthetically, it also raises some practical issues when it comes to adjusting them to suit your needs. You could go down the manual route with a skylight blind opening pole but one of the most popular and modern options is electric solar-powered skylight blinds.
Fitted with an internal motor, these blinds charge with the help of natural sunlight. Once installed and fully charged, the battery doesn't require recharging manually or replacing ever again! Each one is supplied with a multi-channel remote control that operates the blinds from up to 35 meters away and which can be programmed to control up to 20 blinds individually. These blinds also include brush seals which block our light and help to reduce heat loss. With the simple click of a button, you'll be able to increase or reduce light while taking ownership of privacy – and they are entirely child safe so ideal for bedrooms and nurseries. 
Waterproof Skylight Blinds

Additional bathrooms or kitchens are some of the most popular uses for both extensions and loft conversions. And one thing to consider in these unique environments is the abundance of water. From showers and sinks through to the heat generated from an oven, both of these rooms are moisture-dense. With this comes the risk of moisture-related damage on soft furnishings, including the growth of mould. Consider that steam rises and the odd splash isn't out of the realm of possibility when you have a busy family home. This is why waterproof skylight blinds exist. 
Coated in a waterproof finish, these blinds are easy to clean, mold-resistant, and effortlessly stylish. 
Translucent Skylight Blinds

In some situations, blackout roof window blinds actually present more issues than solutions. Yes, they're brilliant at blocking out light and do this exceptionally well are skylight blinds with their channel-set design. However, in some situations, having absolutely no light can become a hindrance. Think offices, for example. Too much natural light will cause glare on computer screens which is both distracting and detrimental to productivity. You want to be able to control the amount of light that floods in but still require a workable amount to get on with the job at hand. Equally, playrooms may be too bright without any window covering but need a degree of light to ensure they can be used effectively. 
Translucent skylight blinds solve this issue. Made from a woven fabric, they allow a muted amount of light through, when rolled down. This means you'll still be able to rely on natural light during the day but can minimise overzealous sun rays to your benefit. Again, they're available in a host of colours and styles so you can maintain the interior style of your new space while prioritising practicality. 
With a host of colours, a range of practical fabrics, and a variety of brands available on the market, it's no wonder that roof windows and skylight blinds are continuing to stay popular. If you have any questions about our online range or would like to speak to a member of our team here at Skylight Blinds Direct, please get in contact today.