Having a roof window fitted is one of the most exciting stages in a new extension. It helps to transform a pile of bricks into a room and allows you to visualise how this space will work when it's finished. If you're working with a professional architect or builder, you'll know that there are many things to consider when purchasing roof windows. And one that is most relevant to us here at Skylight Blinds is thermal protection – e.g how much heat your window will lose during a period of time.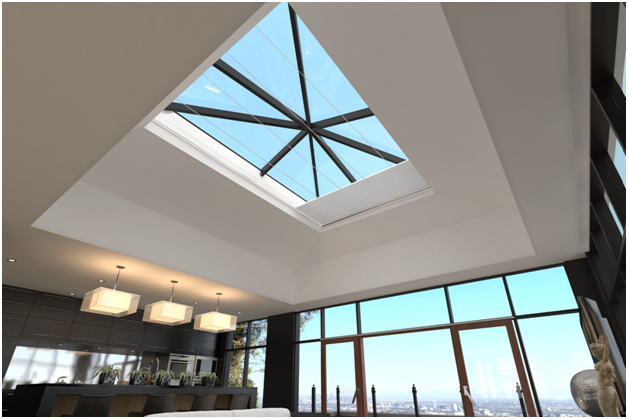 In this blog, we'll look at thermal protection in more detail and how the right skylight blind helps to improve this significantly. 
What is thermal protection? 
When we speak about thermal protection, we're talking about materials and solutions used to lower the U-value of your windows. A U-value is a measurement of heat loss and the rate at which it is lost. It is used to determine the performance of a material and how well it keeps heat within a dedicated space. For roof windows, the U-value tells you whether it will help to maintain a comfortable internal temperature or whether it needs additional support to do so. They are measures in watts per square meter Kelvin (W/m2 K).  
The lower the U-value, the less heat loss it will allow. When choosing a roof window, you should opt for one with a low U-value to improve thermal efficiency. Thermal protection is a term used to describe the materials used to lower this value and keep a home comfortable at all times. 
Reducing U-value on roof windows
When considering U-value and thermal efficiency for windows, you need to pay attention to the different glazing options. In the UK, all new or replacement windows are required to have a minimum U-value of 1.6W/m2 K or less. Double-glazed roof windows that have been filled with argon may have a rating of 1.4W/m2 K and triple-glazed options can reach rates of 0.7W/m2K. 
Many roof window manufacturers use glazing solutions to help reduce their U-value. Good insulation and high-quality workmanship will also impact thermal transmittance. For example, a well-installed roof window without gaps or cold bridges will reduce the amount of heat that escapes before you even take into account the glass. And, a good, well-crafted, and thermal window blind will also work to minimise draughts and maintain a comfortable temperature in the home. 
What thermal blind options are available for roof windows?
If you've got a standard skylight roof window, then a thermal skylight blind is the most suitable option. Made from specialist fabric, this material features multiple layers. The central one provides light blocking technology, shutting your room into complete darkness when closed. Alongside this, a thermal layer reflects sunlight away from the window and locks heat in. This minimises heat loss, keeps your room comfortable, and reduces the strain on your central heating too. 
For flat roofs, and specifically those that are smaller in size, the SkyFit™ Flat Roof Window Blind is an ideally tailored option. Again, it comes in thermal blackout fabric, working to improve thermal protection and efficiency. With custom-made side rails and spring-operated mechanism, it fits across the entire reveal of your roof window. When closed, you get complete light-blocking, draught protection, and a lower U-value from this specialist fabric. 
Specifically designed to keep a space cool in the summer and warm in the winter, discover the LanternLITE™ Roof Lantern Blind. This DIY-installation window blind is available in sizes up to 3.6m x 4.1m and has a visible wire-free design. The blackout thermal fabric locks into each side channel, to minimise sagging and give you the best thermal protection. With either an electric motor or manual gear operation, it can be closed over your roof window reveal. It creates a flat panel that blends into your ceiling and stabilises both temperature and light in a room. This blind can also be used with a host of different roof windows, including dome windows, pyramid windows, light wells, sky pods, flat roof windows, horizontal roof windows, and other glass expanses. 
This uniquely designed blind uses a honeycomb fabric to reduce U-value. Air is trapped between the cells, which insulate from the inside and prevent it from leaving. This means the fabric itself becomes warm to the touch and you get an undeniable stylish look for your roof window. It is lightweight, easy-to-fit, and available in blackout and light filtering options. And, the high-quality Somfy® motor allows you to link it with your Amazon Alexa® or Google Home for voice-activated operation. 
Window blinds are one of the most cost-effective and reliable ways to reduce U-value on your roof windows. Alongside this, we recommend choosing windows manufactured by the leading names, including VELUX®, Keylite®, Fakro® and more. This way you benefit from the most innovative technology and materials used to reduce the amount of heat your windows lose. 
If you would like any further information about our range of roof windows or the best options to improve thermal protection and reduce U-value, please get in contact with our team here today.