Fitting skylight blinds – We've spoken in depth about the benefits of skylight blinds in our blog. Helping you to create a home that fits your practical and stylistic needs, we're confident there's a type out there for every home. And, one of the things we do, here at Skylight Blinds Direct, is create window blinds that work for every budget. We take into account everything from quality of fabric through the variety of styles available to ensure you can always find the right solution. To support this, all of our blinds are available with easy-to-follow and comprehensive installation instructions. You won't need to invest in additional labour or put off having them installed until a tradesman is free. Instead, fitting your skylight blinds couldn't be easier.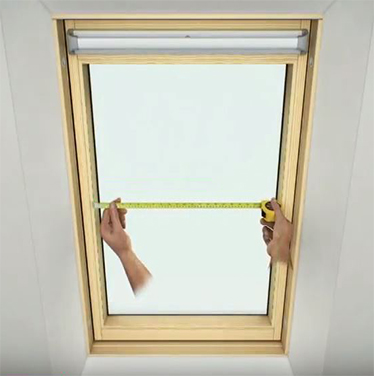 We have a number of videos available on our Youtube channel, demonstrating how to do this. But we thought we would also pull together this guide. 
Identify Brand & Model Number
We manufacture skylight blinds to suit the windows of many leading manufacturers. From VELUX®  through to Tyrem®, each option is made to sit your window frame seamlessly. To do this, we work with the individual window codes and manufacture each element accordingly. So, in order to make sure you can fit your skylight blind easily, it's vital that you identify this early on. 
All of the major window manufacturers have made this process extremely simple. Most of them, such as those manufactured by VELUX®, will have a product plate attached to the window frame itself. It's location varies slightly, so it's worth checking out the guides that we've created for each one. 
If there doesn't appear to be a window code plate or a manufacturers level, please do get in contact with our team here. We also offer a bespoke skylight blinds service, whereby we manufacture to your exact measurements. So there is always an option out there for you.  
Fitting Your Skylight Blind    
Once you've ordered and received your skylight blind, it's time to get fitting. To make this process as streamlined as possible, we provide full installation instructions in with every order. Some designs, such as our Roof Lantern Blinds, have a 2-person installation process. While others can be fitted easily with just one, able-bodied person. 
For our standard range of skylight blinds, follow the following instructions to fit:
Ensure the old blind and any fittings have been removed from your window. Clean away dust or grime to achieve the best fit. 

Remove all items from the packaging

Lay them out on a flat surface so you can clearly find the piece you're looking for. 

Identify the cassette

Peel off the stick strip located at the top of the cassette

Position the casset underneath the top of the window frame. Press firmly to fix it in place. 

On either side of the cassette, you will notice screw holes. You will find screws in your kit. Use a

hand screwdriver

to secure the cassette into place. Repeat this on both sides

Manually adjust the bottom bar to ensure it is positioned in the centre of the blind. 

Next, you will install the side channels. 

Insert each side channel individually. Use the provided screws and a hand screwdriver to secure them into place.

Repeat on the other side

To operate your blind, raise the middle of the bottom bar towards the window. You will then be able to raise or lower the blind as needed. 
For most of our customers, the instructions above will result in your skylight blind being securely fixed. If you encounter any issues during installation, please get in contact with our team who will be able to advise. 
If you prefer a visual tool during this process, please see the video below.