If you've ever had a conservatory or spent a length of time in one, you'll know they're not traditionally the best at managing temperature. You're either too hot or too cold – stuck in a heat box or shivering to your bones. Most of the time, this lack of temperature control is due to age. Older conservatories simply weren't designed with the technology we have at our disposal now. However, even if you can't afford to have a brand new conservatory fitted, there are ways to tackle excessive or reduced heat in these unique spaces. Read our guide here to find out more about skylight blinds, glass films and new roofs.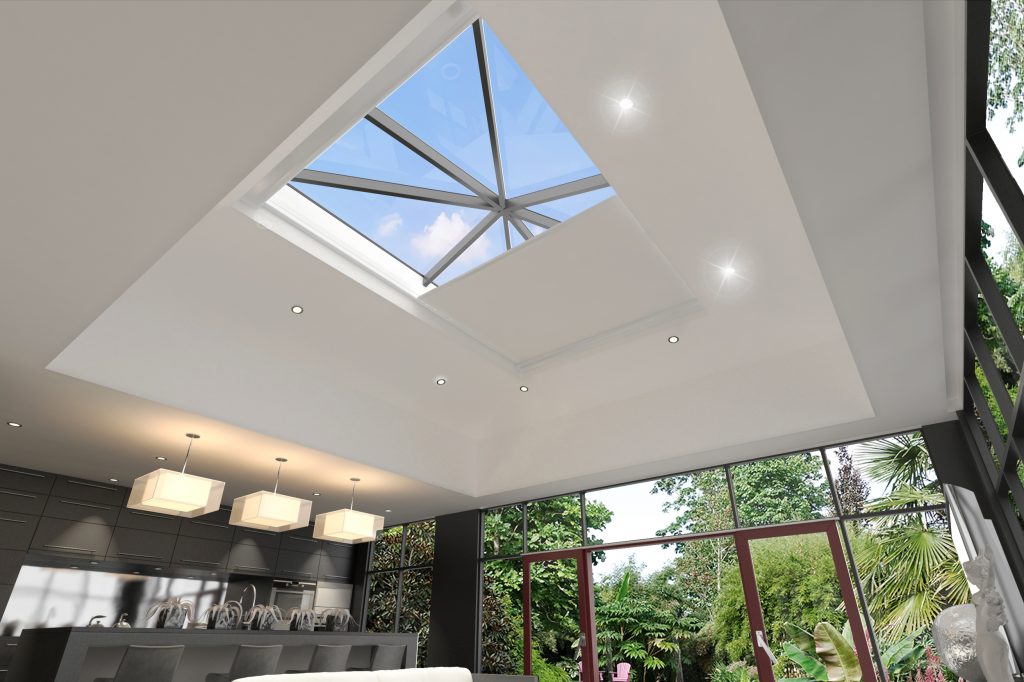 Why do conservatories get so hot/cold? 
Conservatories may present issues with heat control but they also offer a host of benefits. They are one of the best and most cost-effective ways of adding more space to your home. On average, a small-medium conservatory will cost anywhere between £4,000 and £9,000. Compare this to £16,000 – £21,000 for a small ground-floor extension and it's clear to see which one's the winner. In addition, as well as expanding your space, conservatories allow you to welcome more light into your home. Older homes can benefit from this hugely – especially if the purpose of having one built is to improve entertaining space. 
The impact of excessive heat on your conservatory can be significant. Furniture and soft fabrics are prone to fading if exposed to high temperatures and UV rays. The bonding agent used to secure laminate flooring or synthetic tiles can become unstable in hot temperatures, causing tiles to move or curl at the edges. And indoor houseplants may wilt or die in such conditions. 
However, conservatories are historically known for being poor managers of heat. And, this is largely due to the materials used and the abundance of glass. 
Reasons for cold and heat in conservatories
In general, conservatories consist of mostly glass. Older models may have unprotected or unglazed glass while newer models may take advantage of technology to reduce heat gain. Either way, up to 10% of household heat is lost through the glass and this explains why these additional spaces can be problematic. 
On hotter days, allowing in so much light also leads to heat gain. Glass absorbs heat through solar gain which is directly transmitted through the glazing and into the conservatory. This continues to happen throughout the day – especially during the warmer hours of 12 pm – 3 pm. As this goes on, the heat in conservatories skyrockets, making it an extremely uncomfortable place to spend time. Unglazed glass will amplify this issue even further. 
In contrast, conservatory glass allows a significant percentage of heat to leave. Colder days will feel even crisper if this isn't prevented. The warm air created from your central heating comes into contact with the cold glass and allows it to pass through. No matter how much time you've invested ensuring your conservatory stays comfortable for guests, this can be lost in minutes. 
How to keep a conservatory cool/warm
Now that you understand why conservatories can get so uncomfortable depending on the outside weather, let's take a look at some proven ways to manage this. 
Use skylight blinds or roof blinds
Window blinds are designed to help with light, privacy and temperature control. In conservatories, their impact can be far more noticeable. If we remember that all-glass conservatories will have the majority of sunlight streaming through the roof, it seems reasonable to look here first. Roof lantern blinds are designed to cover an entire roof or specific skylights. We have two options here at Skylight Blinds Direct – the LanternLITE™ Honeycomb Blind and the LanternLITE™ Zip Roller Blind.
LanternLITE™ Honeycomb Blind
Available in both anti-glare and blackout, this is one of the most versatile roof blinds on the market. It has a honeycomb thermal fabric that traps air within its cells and insulates from within. It also effectively blocks out the sun's UV rays and minimises the build-up of excessive heat during Summer. More information about the LanternLITE™ Honeycomb Blind is available here.
LanternLITE™ Zip Roller Blind
Made from either blackout thermal or anti-glare thermal fabric, the LanternLITE™ Zip Roller Blind has a tensioned zip roller design that is fully enclosed within cassette and side channels. IT allows you to control and stabilize temperature easily and can be fitted entirely by you. The idea here is to save you money on additional labour, make the entire process safe and still giving that premium and professional look. More information about the LanternLITE™ Zip Roller Blind is available here. 
Consider a conservatory glass film
There are a number of specialist films that have been designed to aid heat control in conservatories and orangeries. Most are suitable for use on both polycarbonate and glass. These films have the potential to block out as much of 80% of the sun's heat and 99% of UV rays. They work to block out these rays and can be a cost-effective solution on older conservatories. Some films are tinted while others are entirely clean and won't hinder your view of the garden when inside. 
Increase ventilation – sensibly
On the hottest days, you can always open windows and make the most of natural ventilation. Be cautious of the amount of heat you may be letting in at the same time though. If your conservatory is currently cooler than the temperature outside, keeping windows closed is the best choice. If you are going to open the windows, one of the best times to do it is in the evening/night. 
Replace old conservatory roofs
If you can afford it and if you're living with an older conservatory, it may be time to invest in a new roof. Originally, these structures needed to have 70% of the roof and 50% of the walls constructed from a glazed material. This meant that they didn't need to comply with building regulations. Although this reduced cost and made the construction process swift, it also meant that older conservatories were highly inefficient. 
Modern Planning Permission and Building Regulations now state that conservatories are exempt providing they:
Don't exceed 30m² in floor area
Are separated from the house by external quality windows/doors/walls
Built on the ground level
Have an independent heating system
Use glazing compliant with Building Regulations part N
Be fitted with a roof that is 75% transparent or translucent
This gives you more freedom to create a space that can effectively support your management of temperature throughout the year. From choosing a double-glazed glass roof with translucent covering and the right roof lantern blind through to opting for a tiled roof instead, there are many options available.  
Let us help you control cold and heat in conservatories
Conservatories continue to be a popular choice for homeowners looking to expand on space and appreciate their outdoor space more. And, with the right knowledge and tools, you'll be able to make it an area that can be enjoyed at any point. If you would like more information about effectively managing heat in conservatories with window blinds or LanternLITE™ range, get in contact with the team here at Skylight Blinds Direct today.