Now comes the fun part – choosing the right skylight blinds for your brand new room. Once the builders have left and you've hoovered up that last bit of dust, you're left with a clean slate to add your personal touches. As any interior stylist (pro or amateur) will know, this is the part you've been waiting for. And, when it comes to your brand new skylight windows, you'll want to make sure they're decorated to the nines.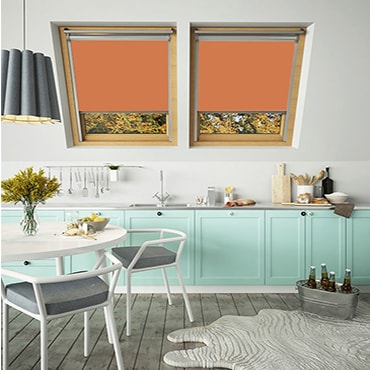 Before you make any purchases, it is worth considering the functionality of your skylights. After all, they were put there to complete a job as well as look sleek and modern. Alongside letting in light, your skylight windows will provide ventilation and help to regulate heat during the year. Understanding the best skylight blinds for your loft conversion can help to optimise on your spanking new space. In this post, we take a look at the skylight window blinds available online today.
Things to consider with skylight blinds
So you've been going crazy on Pinterest or perhaps there are mood boards dotted around your home. The style of your loft conversion accessories is sure to bring a smile to your face. First though, let's consider practicality. You paid for and commissioned this loft space to be workable for your family. Whether it stands as an organised storage option or a new office, dressing it for this specific purpose will ensure you get the most out of it. Below, we delve into a few handy tips to consider before purchasing your skylight blinds.
Living Area or Loft Area
Consider the usability of the roof you've just created. Do you plan to use it as a living area, such as an office or guest bedroom? Or are you improving the insulation of your loft space to make storage safer and more secure? Living areas require more natural light for functionality than a simply loft area would. For this reason, you will need to consider the functionality in line with the rooms specific purpose. Loft areas can be kept quite dark for the majority of the day as this will help to reduce fading over time.
Living area: Kitchen or Orangery?
As we discuss skylight windows, it is important to consider other examples where they may be required – other than loft conversions. Orangery extensions are large buildings, similar to conservatories that are ordinarily made entirely of glass. You will commonly find orangery extensions used as extended or brand new kitchen areas. This is due to a large amount of light they let in and the feeling of being outside but with weather protection. This is where roof lantern windows and the corresponding blinds come in handy.
In these scenarios, it is important to find the right Orangery blind for your roof lantern windows. In doing so, you take control of both the light and heat distribution in these brand new areas. Orangeries can get very hot with the constant sun streaming down on them and also have the potential to lose heat rapidly in the Winter. Here at Skylight Blinds, we stock a range of Eliminate ® Skylight Blinds in all manner of fabrics for your needs. When pulled, they offer brilliant heat and light control along with the tensely held fabric.
For those on a tighter budget, we also stock LanternLITE™. These skylight blinds are known as the first DIY roof lantern of its kind on the market. They are visually identical to our Eliminate® range while being incredibly easy to fit. You can even connect your LanternLITE™ blinds with home control systems such as Alexa or Google Home – making them even more convenient for your entire family. Visit our website here for more information.
Also, see the video below to witness just how elegant our roof lantern blinds can be.
Translucent Skylight Windows
During the design process, your architect or builder may suggest translucent skylight windows for your loft conversion or extension. These provide a built-in layer against direct glare and can help to reduce overexposure the sun within your new room. You will ordinarily find them in kitchens but they can be fitted in any purpose room. Translucent skylight windows can have an impact on your decision when it comes to skylight window blinds. As you already have a layer of protection, you can choose blinds made of a sheerer material without the risk of glare or uncomfortable heat.
So you've been going crazy on Pinterest or perhaps there are mood boards dotted around your home. The style of your loft conversion accessories is sure to bring a smile to your face. First though, let's consider practicality. You paid for and commissioned this loft space to be workable for your family. Whether it stands as an organised storage option or a new office, dressing it for this specific purpose will ensure you get the most out of it. Below, we delve into a few handy tips to consider before purchasing your skylight blinds.
Workability
The right amount of light in a room can easily dictate how easily it works as the desired space. For example, if you've created a brand new makeup room, you'll need natural light to stop you from turning out like an Oompa Loompa. Alternatively, if you've created a master bedroom, you'll want to make sure it is calm and relaxing in the evening. The right skylight blinds can help achieve all of this. Choose blinds that offer the solutions you want (blackout for bedrooms or sheer for makeup boudoirs for example). We will delve into the different types of blinds in further detail, later on in this post.
Exposure to the outside world
For most loft conversions, the skylight will feature on the slope of the roof. Therefore, outside exposure isn't a primary concern. However, if you have taller housing blocks surrounding your loft conversion or areas where people on the outside could see in, skylight blinds can help give you back your privacy. To prevent the room from becoming dark all day long, sheer window blinds will allow gentle light to flood in. Their translucent design offers a visual barrier without draping your room in darkness. Some skylight windows are frosted during the renovation stage to avoid outside viewing, so speak to your builder if this is of interest.
Insulation
As part of building regulations, the insulation of your loft conversion should be considered way before the renovation takes place. This is in an attempt to reduce lost heat throughout the day. However, the right skylight blinds can help to boost this and your energy efficiency. Consider thermal or solar reflective blinds that work with the natural sunlight to lock in and let out heat when necessary. The insulation in your room also contributes to its liveability. For example, if you've created a beautiful spare bedroom, you'll want guests to feel cosy all year round. Similarly, if it's an office space you're building, good ventilation will keep electronics (and yourself) in full working order.
Light Glare on Desktops
This section focuses primarily on those creating loft offices. Glare can be highly irritating, especially when it occurs on your computer screen. Although the positioning of your computer is the best way to avoid this, blinds can also contribute. Make sure the window dressings you choose allow you to close them without flooding you into complete darkness. A good option here are sheer or voile blinds. Similarly, double blinds can also look great in contemporary office spaces.
Operating for High Windows
If you're lucky enough to have high ceilings in your loft conversion, you'll want to consider how the blinds are operated. If they are out of reach, perhaps motorised window blinds would be the best option. That way, all you need to do is press a button for them to close or open. This option would reduce the risk of injury and increase the usability of the space you've just created.
There are also skylight blinds operated by solar power for those looking to reduce their environmental impact. See our video below to see one in action
Moisture Levels
When it comes to moisture, you'll want to consider the impact this could have on your skylight blinds. Rooms with high levels of liquid use – including bathrooms, kitchens and laundry rooms – need good ventilation. Your built-in skylight windows will help with this. However, it is also worth considering waterproof skylight blinds in this scenario. They are coated with a protective layer that prevents mould and other moisture-related issues. Not only do they look great but they also reduce the labour needed to maintain a stylish room.
Different Types of Skylight Blind
Now, we'll talk about the different types of skylight blind we have online today. Each one has its own range of benefits and features. By understanding each one, you'll be better placed to find the best solution for your loft conversion.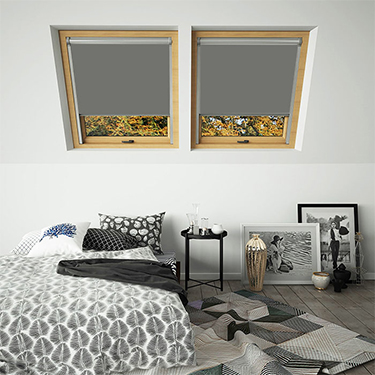 You've probably heard of blackout blinds before. They are made of a special material that blocks out the majority of light rays that come in to a room. This makes them a brilliant option for bedrooms or rooms where darker environments are preferred. In the case of blackout thermal blinds, they also help to regulate heat within your home. The material used here helps to lock in heat during the Winter, keeping the room warmer and reducing the need for continual electrical heating.
The great thing about blackout thermal blinds is that they come in a variety of different colours and patterns. As it is an internal layer of fabric that blocks out the light, you can have light or dark colours along with pops of vibrant tones – if this suits your interior style. Blackout thermal blinds are ideal for all room types too. For dressing rooms, they can provide privacy when you're looking to dress for that big night out. And, in bedrooms, they block out all light and allow you to drift off into the most relaxing sleep ever.

Our range of translucent blinds are designed to solve two issues. They allow a diffused amount of light to flood into your room, meaning you can still get on with the tasks of the day. However, the translucent material offers privacy by not allowing people to see in. Perfect for offices or children's bedrooms, they are beautifully serene and classic.
Translucent skylight blinds are easy to style into your new loft conversion. They come in a range of colours to suit your style and sit demurely against the frame of your windows. The brilliant thing about the material used is that it still allows the right amount of light in to complete normal day tasks. Offices are a brilliant place to fit them – think of a gentle light illuminating your workspace without the risk of glare.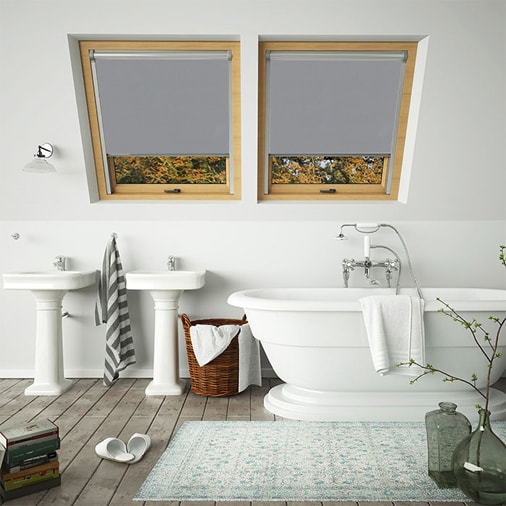 If it's a new bathroom, washroom or even kitchen you're creating, 100% waterproof skylight blinds are simply perfect. They are coated with a protective, waterproof and impenetrable finish. This reduces the risk of water-based stains while also, and most importantly, reducing the chance of mould over time. Coatings such as these also speed up the cleaning process, meaning you'll be able to give your blinds a quick wipe down regularly.
Similar to the other lines, waterproof skylight blinds come in a range of different colours and patterns. Don't fret about being stuck with classic block tones – we have kitchen-inspired prints and other vibrant options available. You really can create the kitchen or bathroom of your dreams.
Electric Skylight Blinds
For those with high skylight windows or those simply looking for luxury, consider motorised skylight blinds. These window dressings have an integrated motor which is operated with a remote control. This allows you to open and close the blind with a click of a button. For hard to reach windows, these blinds can be a godsend. You'll be able to comfortably control the light distribution in your home which optimising on privacy.
Another thing to take into consideration from a purely aesthetical point of view is the colour of your skylight blind frame. When fitted, it provides the border for your blind and becomes part of the overall look. Here at Skylight Blinds Direct, our blinds come with either a silver or black frame. From here, you can then choose the colours and patterns that pair best with both options.
How to identify your windows
Before you order your skylight blinds, it is imperative that you identify the type of window you have. For many, this information has been given to them through their architect or builder. However, if you're working with an older conversion or have missed this piece of information during the build, there are a number of ways to identify your type. Most skylight windows have an identifying plate or manufacturers label with a unique code.
If you visit our website, we have instructions for identifying these codes for each of the brands that we stock. With everything from the brand leaders, VELUX ® through to lesser-known brands including Aurora, our expert team can offer full assistance here. Call us on 0800 008 6293 or email us at sales@skylight-blinds-direct.co.uk.
Now to you
Finding the perfect skylight blinds can really help to tie together the style of your loft conversion. We are proud of the extensive range of classic and contemporary window dressings on offer. Take a browse through our website today to discover colours, patterns and styles – perfect for the enthusiastic interior designer.