Loft bedrooms and conversion applications continue to rise every single year. In fact, examination in 2018 showed a 114% increase year-on-year during that period alone. And now in 2020, 'loft conversions' returns an average monthly search volume of 22,200. An increasing number of us are looking to the homes we already own instead of moving on. In place of flooding websites like Right Move with searches for larger properties, we are now searching for ways to increase the space we already have. We have an abundance of articles already written by our experts which you can find here. But today's guide will walk you through our advice on turning a loft conversion into a bedroom that works, fits your needs and increases your properties value.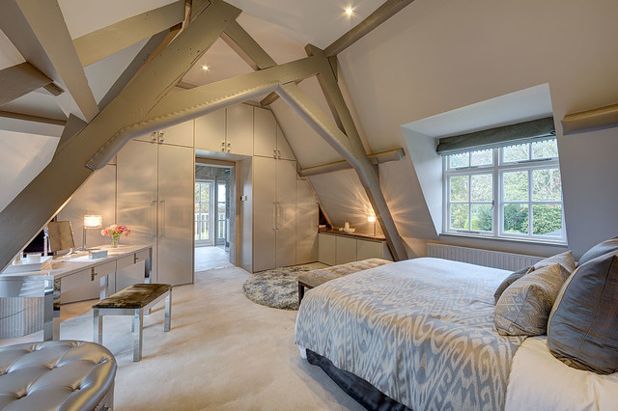 How much does a loft conversion cost?
Adapting your home is an investment – no matter how small. And loft conversions require you to structurally change an existing room in your home. Our lofts are generally used to store all the items that don't have their own place downstairs. When used for storage, they require very little aesthetical decoration – after all, you're unlikely to invite guests up there. 
However, once you decide to change your loft space into a bedroom, you need to consider factors such as:
Stable flooring
Appropriate insulation
Entry points
Fire safety
Windows
All of these areas require you to invest. And this investment is normally considerable – you don't want to skimp on such a significant project. Our blog 'Skylight Blinds – What costs can you expect with your loft conversion' covers the different factors that will impact your budget requirements. From whether you need planning permission, hiring an architect or sourcing the best materials, we recommend having a read before proceeding with your plans. 
However, according to Real Homes, an average loft conversion in the UK is likely to cost anywhere between £30,000 and £50,000. This pricing won't take into account any of the considerations you'll need to make specifically for loft bedrooms – buying a high-quality bed, investing in skylight blinds that aid good sleep health or accommodating for all the storage you need.
Why are loft bedrooms such a good choice?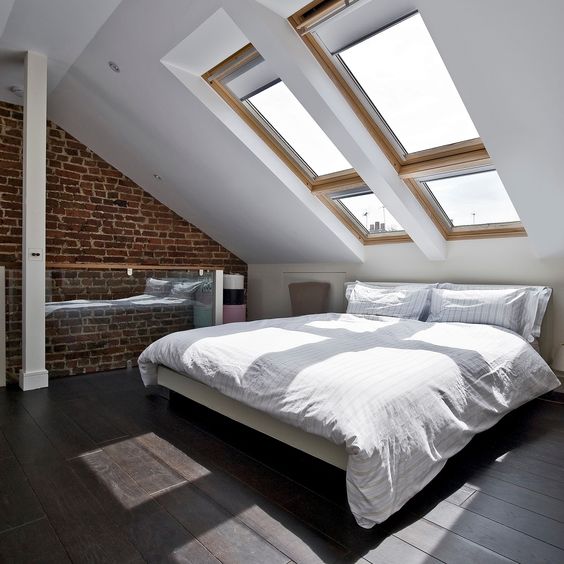 The reasons for converting a loft normally circle around requiring more space. Outside of needing office space to support working-from-home individuals or a playroom that allows their imagination to soar, many households need the space for an extra bedroom. This could be due to the family growing. Perhaps an elderly member of the family needs in-house care. Or maybe you're looking to increase the value of your home in order to sell up. 
Loft conversions are ideal for bedrooms – they really do make the perfect option.
Private
Privacy in bedrooms is something we're taught to appreciate from a young age. And having loft bedrooms on the top floor offers this in abundance. There's no risk of family members walking past as you take a call or wandering in accidentally on their way to the bathroom. 
Spacious
If there's one thing a master bedroom should be, it's spacious. And having the entire floor span of your home to dedicate to this space is ideal. Choose that ultra-comfortable queen-sized bed. Bring in that rug that over dominates smaller rooms.
Views
If you live in a place of beauty or simply want to escape from the hustle and bustle of a city, loft conversions allow you to look over the surrounding properties. For bedrooms, imagine lying in bed and watching the sunrise. Or appreciating every single ray of natural light throughout the day through your skylight windows.
Top tips on creating usable loft bedrooms
So, you've done your research and are sure a bedroom is the best use of your loft space. Now, how do you make the most of the new room?
Choose the right skylight windows
One of the best things about loft conversions is how much natural light they can capture. And the way to do this most effectively is through skylight windows. The Type of window you choose will depend largely on the type of loft conversion you're going for. Mansard roof conversions, for example, can be built with normal windows that face out vertically to the world. If you're not looking to change the roof's external structure, skylight windows are an ideal choice.

You need to discuss the specific requirements with your architect. How big do you need them? How many do you need? And, how will you dress them? Natural light is great during the day but you'll want to be able to manage it later on – just before bedtime, for example. The right skylight window blinds 
How to find the right skylight blinds for your loft bedroom. Blackout skylight blinds help you to easily manage light. Electric skylight blinds allow you to do this, but on taller windows or in areas that are harder to reach.

Opt for built-in storage
Storage in bedrooms is vital. Alongside clothes and shoes, you need to consider where all of your personal belongings will go. Loft conversions are unusual shapes. While this may limit the amount of readily available floor space, it presents unique opportunities for storage. Have built-in storage incorporated into the arches of your roof – you'll be able to keep items tidied away while keeping the room tidy at all times.
Focus on sleep
The UK Sleep Council recommends using your bedroom for sleep and sleep alone. This means avoiding other activities such as working, reading or entertaining in your bedroom. The idea here is that, subconsciously, you draw a line between sleeping and engaging in activities. And, you're more likely to get good and restorative sleep as a result.
How to choose the perfect skylight blinds for loft bedrooms 
As experts in Skylight Blinds, it didn't seem right to bring you this guide without our top tips for choosing the perfect roof window blinds for your bedroom. The beauty of these window dressings is their versatility. No matter what brand of window you have fitted, there will be an option on the market to suit your needs. Three things to consider when choosing yours are:
Materials
Your bedroom needs to fit its purpose – namely sleep. Creating the ideal sleeping environment depends on having the capabilities to control light. Our bodies need darkness to produce melatonin – the hormone that controls our sleep cycle. Blackout skylight blinds are custom made for this purpose. Their multi-layer design features a light-blocking material that prevents sun rays from passing through. Skylight windows have channels that the blind fabric is fitted to. This eliminates the normal slither of light you find passing through on either side.
Fit
While most skylight windows operate in a similar way, different brands offer different fits. You need to choose skylight blinds that are designed specifically for your windows. We have roof blinds manufactured in-house but designed to fit all major brands. This includes VELUX®, Keylite®, Fakro®, Rooflite®, and Dakstra® amongst many others. Each brand has unique installation instructions for fitting skylight blinds, so it's vital you know which brand you're working with.
Operation
Manual or electric? Manual roof blinds need to be opened and closed using an Opening Pole. Electric skylight blinds are operated by remote control and have an internal battery which charges through sunlight. Choosing the right one largely comes down to where your windows are. If they're way out of reach or you have an awkwardly shaped loft bedroom, electric skylight blinds give you freedom of use.   
Finding the perfect skylight window blind or styling a loft bedroom to love is something entirely achievable by anyone. We have a team of experts on hand to help, offering their advice and recommendations to ensure you make the right decision for you. Get in contact today.